There's no denying it: Dr. Squatch is an outstanding soap brand. The scents are unique and compelling, they have a variety of grits, we love their limited edition briccs, the packaging design is top-notch, and the soap itself is a joy to use.
But then reality hits: it's expensive. As much as we love Dr. Squatch, we all have budgets to stick to—and one bar of soap can add up fast!
So how do you find cheaper alternatives that still deliver on quality?
Well, we've got a list for you. We've put together ten soap brands that are just as good as Dr. Squatch—and even better!
1. Duke Cannon
Duke Cannon is a great option if you're looking for something similar to Dr. Squatch but at a lower price point. They specialize in bar soaps for men and offer a huge variety of soap scents.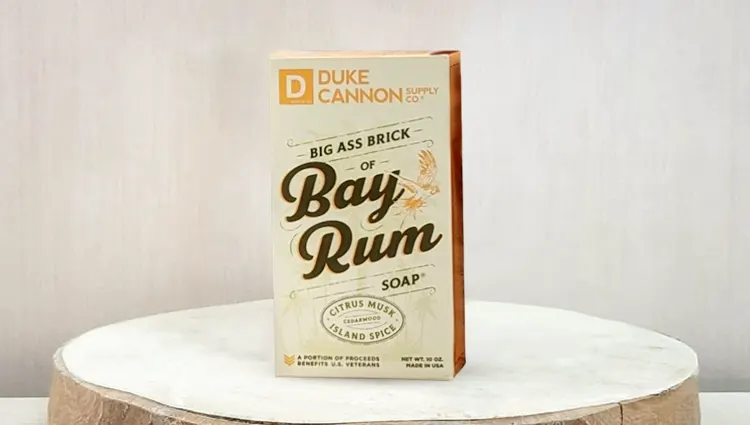 They have around 25 scents to choose from, so there's something for everyone—from earthy scents like Buffalo Trace and Campfire to citrusy scents like Accomplishment.
Their soaps are 10 oz, which is almost double the size of Dr. Squatch's 5 oz bars. That means you get more bang for your buck! They cost around $9.00 per bar, which is great considering how much is included in each one.
We love their unique packaging as well — Duke Cannon's soaps come packaged in attractive boxes with fun graphics. This makes them an ideal gift idea for your dad, husband, or any guy who loves being clean and smelling good while doing it.
They also have a subscription service where customers can order their favorite scents on an automatic refill schedule—a great way to ensure you always have fresh soap on hand!
But if you want to save some cash while still getting your hands on a good product that supports veterans and gives back to our country's military members, then this might just be the right choice for you!
Here's a side-by-side comparison of the two brands: Dr. Squatch vs. Duke Cannon
2. The Soap Guy
If you're on a budget and still want to enjoy the benefits of Dr. Squatch, then The Soap Guy is the way to go. Each bar is about 3.5 oz and comes in plenty of fragrances, so you'll never get bored. They even experiment with different fragrances, which is a rarity among soap companies!
They're coconut based and have a good lather—not as much as Dr. Squatch, but still pretty good! You'll also get a nice soft feel on your skin and hands when using this soap, plus it moisturizes pretty well without making your skin dry.
At about $2 per bar, it's still affordable when compared to Dr. Squatch's prices. If you buy in bulk though, the price drops down to about $1.50 per bar—a pretty sweet deal if we do say so ourselves!
The only downside was that they didn't have as much lather as we expected—but if you're looking for something affordable and easy on your skin, this might be just what you're looking for!
3. Sudsy Bear
The first thing you'll notice about Sudsy Bear is the quality of its products. They're made with natural ingredients and no harsh chemicals—and they're cruelty-free, too! They offer over 30 different soap scents, so you'll be sure to find one that suits your needs.
These bars are also very big at 5 to 6.50 ounces each, so you can get a lot of use out of them before needing to buy another one! Plus, it lasts about 4-5 weeks, which is pretty decent considering how much they cost compared to Dr. Squatch's bars (which last about half as long).
The abrasiveness on this soap is just right—not too harsh, not too gentle—and it has a nice scent that isn't overpowering but also isn't weak. They also have a Pine Tar soap just like Dr. Squatch, which is one of the most popular soaps they sell.
Sudsy Bear also has a subscription service where you can save 15% off on every order when signing up for their automatic shipments of soap. It's an awesome deal if you're looking to save some money while still getting great quality products delivered straight to your door!
Sudsy also provides free samples with some of their orders, which is a nice perk for their customers.
It costs around $9 per bar, which is pretty close to Dr. Squatch's price. Sudsy Bear can be found at most grocery stores or online.
4. Bearsville Soap
Bearsville Soap is the fourth one on our list. It has less lather than Dr. Squatch and its bars are a little more dense, but it's still very effective at cleansing your skin and leaving you feeling fresh. If you're looking for something that will leave your skin feeling clean without stripping it of its natural oils, this could be a great choice for you!
Bearsville Soap has 18 different scents, including some that are popular with Dr. Squatch fans: Pine Tar, Fresh Cirus, and Eucalyptus Spearmint. This means that no matter what kind of manly aroma you're looking for—whether it's minty fresh or earthy—you'll probably find it with Bearsville Soap.
Bearsville's scents are also a little stronger and linger longer than Dr. Squatch's do, so if you're into strong scents, this might be worth checking out. The scents are masculine and make you think of being in the woods, but not in an overpowering way—they're subtle enough that even women could get away with using them as well.
The bars are approximately five ounces and cost around $8.00 each.
Another bonus: Bearsville Soap doesn't contain harsh chemicals like some other brands do—and all of their products are made in the USA with high-quality ingredients.
5. Crate 61 Bar Soap
This is one of our favorite alternatives to Dr. Squatch, and it's actually cheaper! Crate 61 is a Canadian company that makes handcrafted, 100% natural soaps. They use all-natural ingredients and no artificial fragrances or preservatives. The bars are made from coconut oil, extra virgin olive oil, avocado oil, raw shea butter, and essential oils.
The lather is rich and bubbly, and it leaves your skin feeling soft and moisturized. The bar is about 4 ounces and will cost you around $3 a bar. The best part is that this soap lasts for well over 30 showers—that's more than twice as long as Dr. Squatch!
This soap smells lovely and leaves your bathroom smelling like a tropical oasis. The scent is subtle, but it lasts for hours. My personal favorite was avocado grapefruit, which smells like a fresh-squeezed glass of juice.
The only downside to this soap is that some of the scents are just plain bad. But if you're willing to go through a few duds (or just stick with Avocado Grapefruit), then this soap is definitely worth a try.
6. Dr. Bronner's
Dr. Bronner's is a very popular brand of soap, and they've been around since the 1948s. They make their soaps with natural ingredients and traditional methods, and have 5 oz bars that cost around $4.99 each—making them a cheaper alternative to Dr. Squatch!
There are eight scents available: almond, lavender, eucalyptus, peppermint, rose, citrus, tea tree, and baby unscented. I'm partial to peppermint and lavender scents myself!
The one thing I don't like about Dr. Bronner compared to Dr. Squatch is the limited number of scents available (eight vs twenty). However, that doesn't stop me from using it regularly because it makes my skin soft and moisturized—and it smells so good!
I also love that this brand uses recycled paper for wrapping their bars; plus they contain natural vegetable oils instead of artificial preservatives like some other brands do.
7. Harry's
Harry's is a great option if you're looking for something with a rich lather, but without the high price tag.
I've tried a few of the scents, and they all smell great—the Redwood is my favorite! The bars last around 4 to 5 weeks per bar, which makes it easy to fit them into your budget.
The 4 oz bars cost around $6 each, but you can find them at stores for just $3.99 each bar!
They have limited scent choices when compared to Dr. Squatch, but the ones they do offer are wonderful.
The only downside is that it can be difficult to find Harry's in stores these days, so if you want it on hand at all times, you might want to check out their website or order online.
As a gift, this soap would make a great present for any man who likes clean scents and natural products!
8. Outlaw Soaps
I love supporting small businesses, so when I found out that Outlaw Soaps were hand-mixed in Reno, Nevada, I was intrigued. The soap dissolved faster than Dr. Squatch's, and the rich lather made me feel like I had just come home from a long day of work.
I also love that Outlaw Soaps come in ten scents: Fire in the Hole, Mountain Hideout, Blazing Saddles, Hair of the Dog, Calamity Jane, Lust in the Dust, Home on the Range, Cursed Cowboy, Fall on the Mountain, and The Gambler.
I've tried three scents: Blazing Saddles, Fire in the Hole, and Hair of the Dog (which smells like a whiskey bottle). I love all three scents, but if I had to choose just one, it would be Fire in the Hole—it's so rich!
It lasted me just under two weeks before needing a new bar, and the scents are strong and long-lasting—they linger in my house with a nice aroma.
The only downside is that they cost around $9.00 for 4 oz bars—I wish the bars were bigger for the price. But if you love supporting small businesses and want to try something different than your typical bar soap, Outlaw Soaps is a good option.
9. Lume Natural Soap
Lume soap is made with all-natural ingredients, and it's great for both men and women. It is a great choice for those with sensitive skin. It's triple-milled, which means it will last longer than other soaps.
It'll eliminate body odors and leave your skin feeling soft and clean after a workout at the gym or even just running errands around town! I love the way this soap feels on my skin—it leaves me feeling clean, but not dried out or stripped of all moisture.
Lume soap is cruelty-free and also vegan friendly because it doesn't contain any animal products.
There are six scents available, and the bars are only $5 each. The lavender sage scent is my favorite, but they also have clean tangerine, coconut crush, silver spruce, warm vanilla, and unscented—so everyone can find something they love.
10. Bravo Sierra
Bravo Sierra is a great alternative to expensive, "natural" soaps. This 7 oz bar costs around $6.99 and will last you 30-40 showers, depending on how much soap you use. Since the bars are so large, you can cut them into smaller pieces and use them for months!
My favorite scent is Citrus & Cedarwood, but they have four other scents available: Sandalwood & Fig, Tonka Bean & Lemon, Unscented, and White Vetiver & Cedarwood.
The downside is they dissolve quicker when wet than Dr. Squatch's soaps, so you have to be careful when using them in the shower. Shake your soap before placing it in its dish and allow it to dry out between uses—otherwise, the soap will dissolve at an accelerated rate!
They also donate 5% of their profits to veterans and military families in need. If you're looking for an environmentally friendly option that supports those who have served our country, this is the soap for you!
In brief…
So there you have it! A breakdown of some of the best Dr. Squatch alternatives on the market today. Whether you're looking for a cheaper version, or just want to try something new, I hope this list was helpful!
And if you have any favorite products that aren't on this list, let us know in the comments below!