I remember the first time I stumbled upon Duke Cannon's Buffalo Trace Bourbon soap; it was displayed in a Cracker Barrel store, and the unique packaging immediately caught my eye. As someone who has always been fond of American history and patriotism, I was thrilled to find a brand that caters to guys who share the same interests. Since then, my husband and I have dabbled in a variety of Duke Cannon scents, and he has become a loyal fan of their products.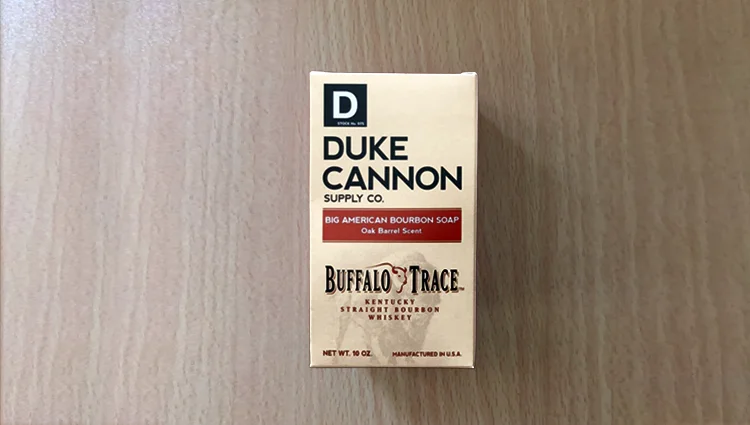 What makes Duke Cannon stand out is not just their high-quality soaps but also their dedication to giving back. The company donates 5% of its profits to support US veteran causes, which makes our purchases even more worthwhile. In this review, I will share my personal experience and thoughts on Duke Cannon's Buffalo Trace Bourbon soap, delving into its packaging, scent, cleansing power, lifespan, and the overall value it offers.
Packaging and Size
One thing that sets Duke Cannon apart from its competitors is the striking packaging. The soap arrives in an attractive, vintage-style box that transports you back to a time when men were rugged, and quality was the priority. It's clear that Duke Cannon paid attention to detail in crafting a captivating visual experience even before you get to the actual product.
Upon opening the box, I was greeted by the delightful aroma of the soap even before I laid my eyes on it. The anticipation just kept building up, and finally, there it was – the Big *** Brick of Soap, living up to its name. Indeed, this brown-colored bar is enormous, weighing in at a hefty 10 oz. Measuring almost 2″ thick, 5″ long, and 3″ wide, it's significantly larger than your average bath soap, making it a genuinely unique experience.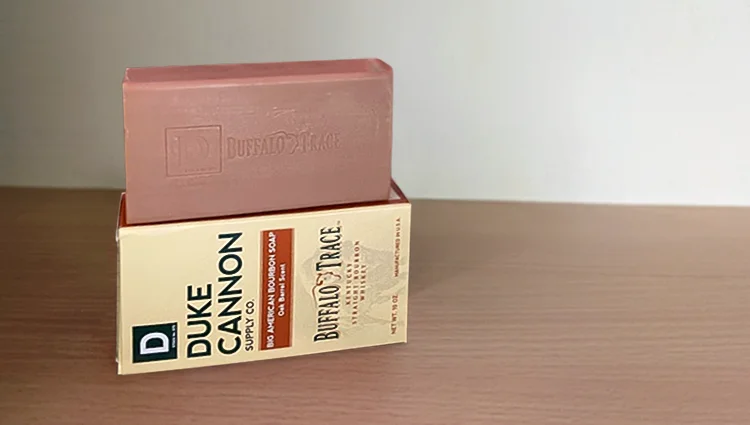 If you're aiming for the soap to last longer, it might be a good idea to slice it into half before you start using it. Just put it on a cutting board, grab a knife, and tread carefully. No worries, the soap doesn't crumble during this process.
Ingredients
Sodium Tallowate
Sodium Palmate (RSPO Certified Palm Oil)
Sodium Cocoate
Water
Glycerin (Vegetable)
Fragrance
Citric Acid
Sodium Chloride
Buffalo Trace Bourbon
Iron Oxides
Scent
Now, let's talk about the scent. Inspired by the rack house at the renowned Buffalo Trace Distillery, the Duke Cannon Buffalo Trace Bourbon soap has a sweet, woodsy, oak barrel scent that's hard to resist. While some might be concerned about the intensity of the fragrance, I found that it does not have a strong overpowering smell. The scent isn't as potent as Duke Cannon's Leaf and Leather soap, but it certainly makes its presence felt.
If you're a fan of rustic outdoor scents, this soap is perfect for you. After a shower, the pleasing fragrance lingers in the bathroom for an hour or so, creating a comforting ambiance. The scent is subtle enough that you won't need to use any other fragrance for the day, but it's still noticeable enough to evoke a feeling of masculinity.
For an even more luxurious sensory experience, I would recommend pairing this soap with their Oak Barrel scent solid cologne. If they ever decide to encapsulate this fragrance in a bottle, it'll be a guaranteed purchase from me.
Cleansing Power
When finding the perfect soap, it is crucial that it cleanses effectively, and I'm happy to say that Duke Cannon doesn't disappoint in this department. It's not harsh on the skin, yet manages to strip dirt off my body with ease. What I particularly liked was the inclusion of small bits of ground corn, which work as an exfoliant and help remove dead skin cells. This made me feel like I was getting a deep-clean every time I used it.
The soap also rinses off easily, which can sometimes be a problem with other brands. I also found this soap to be quite moisturizing, and it doesn't dry my skin out like some other soaps I've used. In fact, I'd suggest using their tactical scrubber with any of their soap bars for optimal cleansing results. The soap leaves my skin feeling fresh and clean without the greasy feeling that some other soaps can cause.
One downside I noticed is that it does stain your white washcloths a light brown, due to the soap's color. However, in my opinion, it's a small price to pay for the great cleansing experience that this soap provides. Plus, it doesn't seem to leave much soap residue in my tub, which is a nice bonus.
Lifespan
Regarding the Buffalo Trace soap's lifespan, I can confidently say it outlasts many of its competitors. Thanks to being triple-milled, the soap boasts exceptional quality and longevity. It generates an abundant lather, allowing for a single soap bar to comfortably last a month or even longer.
To further extend the life of your soap, I would recommend using their new military-grade tactical soap pouch, which comes with a rope for hanging. By allowing your soaps to dry between uses, it ensures they won't become soggy, helping them last longer. Plus, the tactical pouch dries nicely without leaving behind any soap residue.
The shelf life of the Bourbon soap is around 24 months, but given its soapiness, it will probably be gone long before that.
Price and Value
The price of Duke Cannon Buffalo Trace soap is reasonable, with a 10 oz bar priced at $9.50. Although the price is slightly more than their other soaps, which usually cost $9.00, I believe the increase might be due to its unique fragrance and popularity among users.
Compared to other men's soaps on the market, especially those in the same niche like Dr. Squatch, I find Duke Cannon soaps to be a better value overall. Plus, you can save 10% by subscribing to their monthly delivery, or save 20% by purchasing soaps in bundles of four of your favorite scents. Each time you shop on their website, you'll also earn exclusive rewards points, adding to the overall value of your purchase. Additionally, they offer free shipping on orders over $50.
Taking into account the soap's lasting quality, scent, and the overall experience, I feel that the price is more than justified. In fact, you might even save money on cologne when using it because the scent is so delightful that other fragrances aren't necessary.
Final Thoughts
Summing it up, the Duke Cannon Buffalo Trace soap has genuinely impressed me. The gigantic 10 oz bar not only lasts an extended time but also offers exceptional cleansing experience, fantastic scent, and excellent value for the price.
The only downside I felt was the staining of white washcloths, but when comparing the downsides to the remarkable benefits, it is an easy tradeoff. I would highly recommend this soap to anyone looking for a unique and appealing scent without compromising the effectiveness of a good cleanser. Furthermore, the packaging is perfect for giving as gifts or for stocking stuffers during the holidays.
I hope that my review gives you a clear understanding of what to expect from Buffalo Trace Bourbon soap and helps you decide if this product suits your needs.