As a long-time fan of Dr. Squatch soaps, I was excited when the brand launched Jukebox, a unique line of soaps tailored exclusively for women. Sharing the values of Dr. Squatch, Jukebox is all about maintaining quality and utilizing earth-friendly and people-friendly ingredients while providing products specifically designed for women.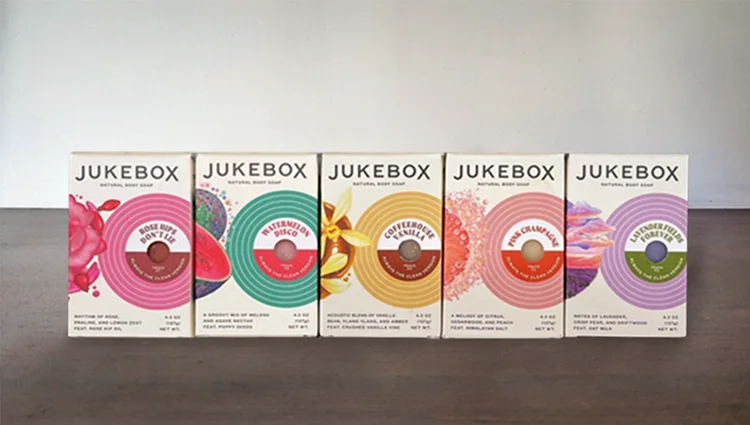 Product Range
Jukebox offers a delightful variety of eccentrically named scents. I've had the pleasure of trying the tantalizing "Watermelon Disco", the soothing "Coffeehouse Vanilla", the floral "Rose Hips Don't Lie", the fruity "Pink Champagne", the wild "Born to Be Wild", the tropical "Island in the Sun", and the calming "Lavender Fields Forever". Though some might find the fragrances a tad "girly", I found them potent without being cloying.
My Personal Favorite – Watermelon Disco
I must admit, I'm quite taken with the Watermelon Disco soap. Labeled 'Track 06', it has a fun scent that reminds me of a Jolly Rancher, filling the bathroom with the delicious aromas of watermelon. I love that this soap doesn't dry my skin, nor leaves any unusual residues. Notably, it's formulated with poppy seeds that provide just the right amount of scrub. The sweet watermelon scent is delightful but not overwhelming, and even my husband enjoys its fragrance because it's not too perfumy.
My Not-So-Favorite
While most scents hit the mark, I'm not a fan of the Lavender Fields Forever bar, but that's just my personal preference.
Expertly Crafted Soaps
A distinct characteristic of these special bars is their manufacturing process – Jukebox soaps are formulated using the cold process method. This is an age-old technique that preserves the benefits of natural ingredients.
Each bar is formulated with organic shea butter and natural oils such as olive oil, coconut oil, and castor oil. Notably, Jukebox is committed to using castor oil — an eco-friendly alternative to the palm oil typically found in soap bars. All soaps are dermatologist-tested and safe for your skin. The brand also incorporates a higher concentration of Shea butter for enhanced moisturization, all without seemingly altering the skin's pH. For those who enjoy a good scrub, take note that some bars contain additional exfoliating ingredients. This detail is conveniently labeled on the product page and packaging as the "scrub level".
The User Experience
Now, coming to the user experience, I've found these soaps to be perfect for everyday use. No oily residue, no unusually dry skin, just a clean, soft, and supple surface. Even in small details, Jukebox shines. For instance, their soaps come in 4.5oz rectangles rather than squares – designed for optimal hand feel for women.
If you're looking for a soap that perks up your senses while you shower, Jukebox soaps cater to that experience. What's even better is that all bars are made to last you an average of 2-3 weeks with daily use. They've even thought of a useful accessory called a 'soap stage', available on their website. This handy tool extends your soap's lifespan by keeping it dry and elevated between uses, consequently optimizing your shower experience.
The Buying Experience
Purchasing these delightful bars of soap was an easy task. They are available on the Dr. Squatch website, while a wider variety of product sets can be found on the dedicated Jukebox website. The prices are satisfactory considering the soaps' premium quality – each bar costs $8. Plus, you can save 15% off your order with the Subscribe & Save option. Bonus tip – Free shipping is available on all orders over $35!
Room for Improvement?
Every product has its pros and cons, and Jukebox Soaps are no exception. While I cherished the lovely scent and quality of these soaps, I must note they are not apt for use as a shaving soap. The lather just doesn't align well with the task. Besides, unlike the parent brand Dr. Squatch, they currently don't offer themed or limited-edition soaps, which could disappoint some fans out there.
Finally, while the individual soap bars are comparably priced to those from Dr. Squatch, Jukebox's bars are a half-ounce smaller. While not a deal-breaker, it is a point worth considering.
Final Remarks
All in all, Jukebox is a recommendable choice for those seeking quality bar soaps in fun fragrances with non-toxic ingredients. The soaps are PETA certified cruelty-free and come in eco-friendly packaging.
Despite a few drawbacks like no themed soaps and the size of the bars, I've enjoyed my experience. I feel blissful coming out of each shower, feeling refreshed and smelling lovely – and so does my husband, who appreciates the non-overpowering scents!