First things first, I had never used a skin lightening product before this soap. I am completely fine with my natural wheatish tone, and you should be too. The problem is that my new job demands me to be out in the sun for hours. Despite using sunscreen, I am getting a heavy tan.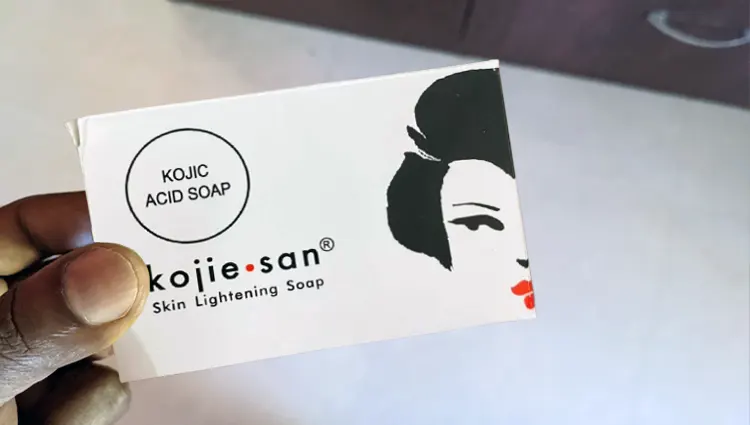 And you know what's even worse? Ugly, dark patches on exposed parts viz. my face, neck, and arms. When I turned to the internet for a solution, it suggested to me Kojie San soap. I was already aware of the brand and its immense popularity. So I decided to give it a try.
The core ingredient of the soap is Kojic acid. Since I had no idea what that was, I looked it up and here's what I found:
Kojic Acid – What Is It and How Does It Work?
Kojic acid is naturally produced during the fermentation process of malting rice. It started gaining popularity in the Japanese cosmetic industry in the late '80s. This chemical is mainly used for skin lightening purposes.
It also works wonders on massive sun damage, wrinkles, age spots, blemishes, and scars. Kojic acid-based creams, serums, and soaps are widely used for treating melasma spots as well.
To restore the natural sheen, shine, and glamor of your skin, kojic acid reduces the overproduction of melanin (natural skin pigment). Our body needs tyrosine, a kind of amino acid, to produce melanin.
Kojic acid minimizes the formation of tyrosine. So, reduced tyrosine= reduced melanin= lighter skin tone. Simple as that! Most cosmetic products use 1% to 4% concentration of kojic acid.
Now that we have an idea about kojic acid, let's find out more about the original Kojie San Soap and why it has such a massive fan following, shall we?
Kojie San Soap – Overview and Ingredients
This kojic acid-enriched soap is a much safer alternative to hydroquinone, another popular skin lightener. The soap is formulated with 100% organic kojic acid and Vitamin-C extract. Vit-C doubles the potency of kojic acid, and together, they fight against saggy skin, wrinkles, and age spots.
Coconut oil is another crucial element of the soap. Kojic acid has received criticism for drying out the skin. To counter this drying effect, the soap uses pure coconut oil. It deeply nourishes and hydrates the skin.
The next prominent ingredient of the soap is tea tree oil. This plant is loaded with medicinal properties. It releases a sweet, cooling effect on the skin and calms down the itching, inflammation, and redness caused by sun damage. Its rich antiseptic and antibacterial properties kill the germs and bacteria responsible for acne, pimples, itchiness, and other generic skin conditions.
We just talked about how kojic acid and Vit-C fights the signs of aging. To help them achieve the goal faster, Kojie San includes Irish moss (Chondrus Crispus). It is an excellent source of Vit-B, beta carotene, and minerals. It replenishes the skin from within and keeps it toned, supple, wrinkle-free, and healthy. People with severely dry and dull skin will benefit a lot from it.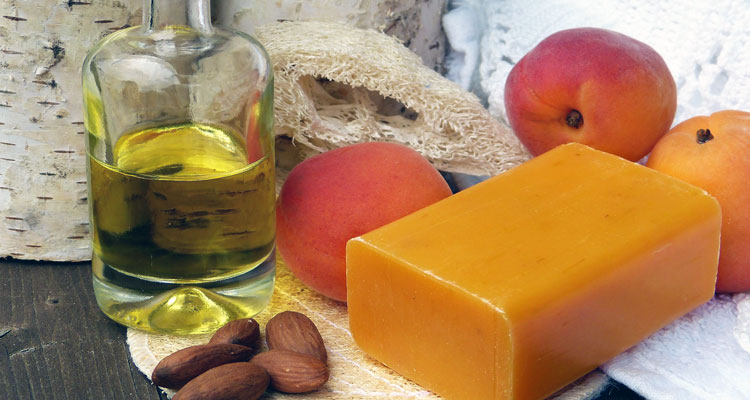 Another anti-aging ingredient in the soap is a sweet orange essential oil. It is full of antioxidants. By boosting collagen production, it keeps our skin taut, glowing, and blemish-free. By curbing free radical damage, it slows down the skin's aging process. If you are over 30 and worried about saggy, wrinkly skin, Kojie San soap is definitely worth giving a try.
Skin Benefits of Kojie San Soap
The pure kojic acid concentration in this soap inhibits the biochemical process of producing melanin. A fungal species called Cryptococcus neoformans can also trigger the overproduction of melanin in human skin.
These airborne fungi produce black pigments through oxidative polymerization of phenolic compounds. The antiseptic and antibacterial ingredients in this soap reduce fungal melanization by killing these fungi.
It doesn't happen overnight. The skin lightening process takes time, and therefore, you should be patient. If you use this soap regularly, followed by a wholesome skincare routine, you should see quicker results.
Here are a few skin benefits you can expect from Kojie San soap:
1. Even Skin Tone
If you walk out in the sun a lot like me, the chances are high that your face, neck, and hands are browner than the parts covered in clothes. Kojie San soap evens out the skin tone, making sure you have the same beautiful complexion all over your body.
2. Treats Melasma
Noticing unsightly brown, gray, or black patches in certain parts of your skin? That's probably melasma. It is a byproduct of sun damage. The patches are mostly visible on the upper lip, chin forehead, and cheeks.
Too much stress, anxiety, thyroid disease, hormonal therapy, consumption of birth control pills, and pregnancy can also cause this skin disease. The well-formulated Kojie San soap is known to lessen the severity of melasma.
3. Say Goodbye to the Signs of Skin Ageing
All the key ingredients in this soap are clinically proven to have amazing anti-aging properties. If you are sick of having wrinkles, age spots, and loose skin, adding this soap in your daily skincare routine might help a lot.
4. Fights Fungal and Bacterial Information
This is particularly helpful for people like me who spend most of the time outdoors during the day. Being regularly exposed to pollution, airborne contaminants, and UV rays can harm our skin in many ways. Kojic acid, along with rich antioxidants, safeguards our skin against UVA radiation damage, yeast infection, and bacterial infections.
5. Lightening the Scars
Kojie San soap doesn't fade or heal scars and scabs. But it helps to lighten the discolored skin around the wounds. Using it for a few weeks could make your scars less prominent.
Who Should Consider Using Kojie San Soap?
Kojic-acid-infused cosmetics are ideal for individuals dealing with hyperpigmentation. It is milder than hydroquinone or any other skin bleach used in commercial cosmetic products.
If you have used skin bleaches in the past and experienced skin breakouts, inflammation, rashes or redness, you can give this soap a try. It has a relatively lower concentration of kojic acid and, therefore, should be safe for people with sensitive skin.
Consider using this soap if you:
Want to reduce dark spots or lighten the complexion of a broad surface on your body. Soap is more natural to lather on a large area than creams or serums. Therefore, it will work faster and more effectively.
Want to reduce dark patches on your underarms, elbows, back and bikini line.
Have sensitive skin.
Cannot or don't wish to splurge on expensive skin lightening products. Considering the immense benefits, I have to say that this soap is quite reasonably priced.
Best Way to Use Kojie San Soap – Dos and Don'ts
This soap has many great ingredients, and you'd want your skin to absorb every bit of its goodness. To do that, prep your skin by washing it with a mild face cleanser. It will open up the pores so that the ingredients of the soap can penetrate deeper into your skin.
Wash the rest of your body with lukewarm water. Now slather the soap gently on your body including the bikini line, don't try to scrub it aggressively. Keep it on for about 30 seconds and wash it off. Keeping the foam on longer won't get you better results. Instead, it will make your skin super dry. Do not overuse it.
If used as directed, you should see improvement in 2-3 weeks. Depending on your skin type and condition, it can take even longer. Don't be disheartened if it is taking a long time to show results. It is not a miracle soap, remember?
And also, a soap alone cannot make all your skin problems go away. You will have to maintain a good skincare routine consistently. Eat healthily, use a good sunscreen, and moisturizer to power up the effects of this soap.
How Does Kojie San Soap Feel Against the Skin?
This soap needs to penetrate the dermis and epidermis layer of your skin to work correctly. When that happens, you will feel a tingling or maybe a stinging sensation. That's completely normal.
As long it is not causing irritation for several minutes, you will be okay. One of the many things I love about this soap is that it lathers very well. I like foamy soaps, gives me a nice clean feeling after the shower.
The Myth Surrounding Kojie San Soap
Here's one thing many people get wrong. Kojic acid does not alter our complexion. And why would anyone even want to do that? We all are blessed with different skins. And melanin is not evil. It is the very opposite.
It protects us from skin cancer by preventing the UVA radiation from damaging our skin cells. Dark-skinned people are blessed with a high amount of melanin, thus getting a superior protection against radiation damage. Besides that, dark skin is beautiful and oh so exotic!
Kojie San soap is an effective way to treat spot pigmentation and uneven skin tone. Well, it isn't very comfortable when the complexion between your face and the rest of your body doesn't match. This soap helps to bring out the natural glow of your skin. And that's what you should aim for.
Safety Issues with Kojie San Soap
There's not a single cosmetic product in the world that has not shown side effects. Only the intensity of it varies from person to person. According to the Cosmetic Ingredient Review Expert Panel, even 1 percent of kojic acid concentration trigger contact dermatitis. This is especially applicable to those with highly sensitive skin.
As I discussed before in the article, melanin creates a natural barrier against harmful UV rays. Therefore, blocking melanin production increases the risk of sun damage. It heightens the chances of getting sunburn and heavy tan. The irony, isn't it?
However, if you use sunscreen and cover up your body while going out in the sun, you don't have to worry much about all these.
The concentration of kojic acid in this soap is relatively low. So the hazard or contact dermatitis, sunburn, or breakouts are negligible. I would still suggest patch testing the soap on a small section of your skin first before dousing it all over your body.
Safety Precautions to Avoid Side-Effects
This soap has a mild bleaching agent. Getting overexposure to the sun, therefore, may cause irritation and redness. Always use SPF-30 or SPF-50 sunscreen before going out in the sun.
Do not leave the soap on your skin longer than 30 seconds.
Use a moisturizer after using the soap.
Do not lather it on open wounds, cuts, or infected area.
Gently exfoliate your skin around two times a week while using the soap.
My Tryst with Kojie San Soap – Did It Work?
I am writing this review after using this soap for four weeks. Here's what happened to my skin over the course:
Week 1: Absolutely nothing. I was enjoying the creamy texture and foam of the soap, though. Mind you. I was using the soap twice a day.
Week 2: The dark patches on my cheek and neck area started appearing a little lighter. I had a good number of acne spots on my face which also lightened up a little bit.
Week 3: The combined effect of this soap, my new lotion, and color correction cream was visible this time. My skin was maybe one shader lighter, and the blotchy surfaces felt smoother.
After coming back from work, I wasn't scratching my skin as hard as I used to before. Truth be told, I wasn't expecting this soap to stop my itching problem so soon. Nice surprise!
Week 4: Almost the same as week 3. No new surprise. I didn't experience any breakouts so far, that's a good sign.
After one month of use, here's a quick summary of what I liked and disliked about this product.
Thumbs up:
The foaminess of the soap.
Soothing citrusy scent.
Lightening of acne spots.
Skin feels more glowing, blemish-free, smoother than before.
No further acne or pimple breakouts.
No itching or redness.
Thumbs down:
The soap melts too quickly.
That unpleasant stinging sensation while applying the soap.
You have to apply a moisturizer immediately after using the soap to avoid dryness.
In Conclusion
So far, so good- that's all I have to say about this soap. I can totally see why people are going mad about it. If it can stop my acne breakouts, itching, and slightly lighten my dark spots in just four weeks, I am excited to see what it does in the upcoming weeks.
If you are looking for a mild and affordable bleaching soap for spot darkness treatment, this is worth giving a dry. I've expressed my view, and now I'll leave the rest to you. After all, nobody knows your skin better than you do.