Pine tar soap is an ancient remedy that has been used for centuries to treat skin conditions such as psoriasis and eczema.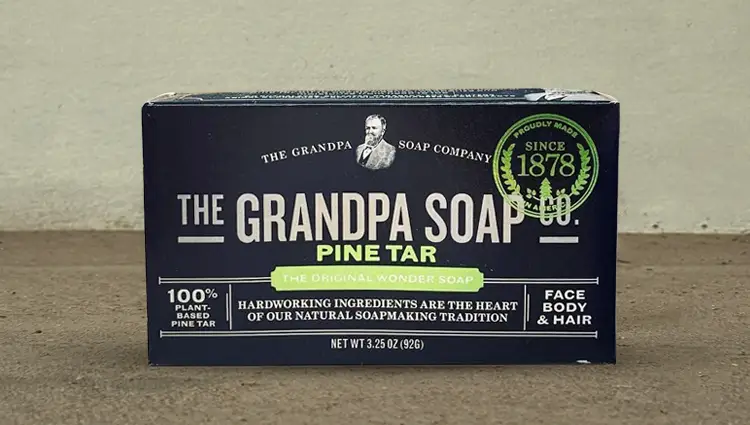 It's a manly soap—the kind you'd expect to see on a shelf at the hardware store or in your grandfather's bathroom cabinet. It has a strong, wood-smoke smell to it that will make you feel like you're in the woods, chopping trees with your bare hands and cooking over an open fire.
The scent may not be appealing to many women, but it dissipates quickly after your shower, so you won't have to worry about smelling like a lumberjack all day. The soap will leave your skin feeling smooth and supple, but not oily or greasy.
Before you go off buying the first pine tar soap you see at the store—which could be anything from an artisanal bar of goodness to a cheap knockoff—read this article for our review of nine top brands that will help make your decision easier!
My husband uses this as his go-to soap when he wants to use something different than regular shampoo or body wash. It's great at relieving the itching and dryness associated with beard dandruff or flaky dry skin—something my husband struggled with before he started using this soap.
It's great for women too—I know some women who use it for PUPPP rash during pregnancy. It's also good for skin rashes, poison ivy, psoriasis, and other conditions.
It smells like campfires (in a good way) and has a very strong smoke smell. It lathers up really well, too—just what you'd expect from pine tar soap.
While it's not as grainy or textured as I had hoped, the soap works well and makes my skin feel soft. It lathers up really well and doesn't leave a residue on my body when I wash with it. After using this soap, my skin feels clean but not tight or dry. And because it's made with all-natural ingredients, I don't have to worry about any of those yucky chemicals that are in other shampoos or soaps.
The only downside is that not all local stores carry this product, but you can always order online!
2. Dr. Squatch Pine Tar Soap
I bought this soap for my husband, and he loves it! The scent is his favorite, and it's strong enough to fill up the whole bathroom with pine-scented goodness, but it's not overpowering or too masculine—it's just right.
He uses this soap for everything: washing his hands after working on cars or motorcycles, cleaning up his face after shaving, and just to feel clean before bed.
I also use this soap myself when I get poison ivy and have an outbreak of blisters from pruning bushes in our yard. This stuff clears up the rash in no time!
The lather is thick and rich and leaves your skin feeling clean and smooth. Plus, the exfoliation from all those little bits of oatmeal makes your skin feel amazing after every shower or bath!
Dr. Squatch's soaps are known for their short life span. To extend the life of your bar, try using a wooden soap saver and soap gripper, which does a great job keeping your soap dry in between uses—so it lasts longer!
At $7 per 5 oz bar, it isn't the cheapest soap out there. But it definitely gets the job done.
3. Packer's Pine Tar Soap
This soap is a classic. It's been around for 150 years, and it's still made in the USA by hand.
I've been using this soap for about a year now, and I love it. It smells like the woods—a distinct smoky pine smell that reminds me of bonfires and camping trips. The scent is strong enough to be noticed without being overpowering. And it seems to get stronger as I scrub away at my skin!
The soap has helped ease the itchiness of psoriasis for me as well—I can't say that it completely eliminates it, but it does help mitigate some of the worst symptoms. In fact, it has even helped clear up some acne I had on my back! It doesn't leave your skin feeling greasy or oily in any way—just clean and refreshed!
It's made mostly with natural ingredients, so I feel good about using it on my skin. At just $5, this soap is a solid value for the high quality you get in each bar.
The only thing I don't like about this soap is that there aren't bigger bars available—I would love a 10 oz bar instead of just 3.2 oz!
4. The Black Stuff Atlantic Pine Tar
This soap, the brainchild of soap artisan John Larkin, is an embodiment of passion, from the careful crafting process to the selection of all-natural ingredients. The soap uses the smallest sufficiency of pine tar—enough to harness its potent cleansing qualities without overpowering its delightful aroma.
Opening the package, the fragrance immediately caught my attention. Contrary to what you'd expect, the scent isn't typical—it presents a unique intermingling of lavender and mint. This quirky aroma stems from the soap's use of essential oils, ensuring no artificial fragrances steal away its natural glory. The scent was soothing, didn't irritate my skin, and left me wishing it had a more lingering footprint.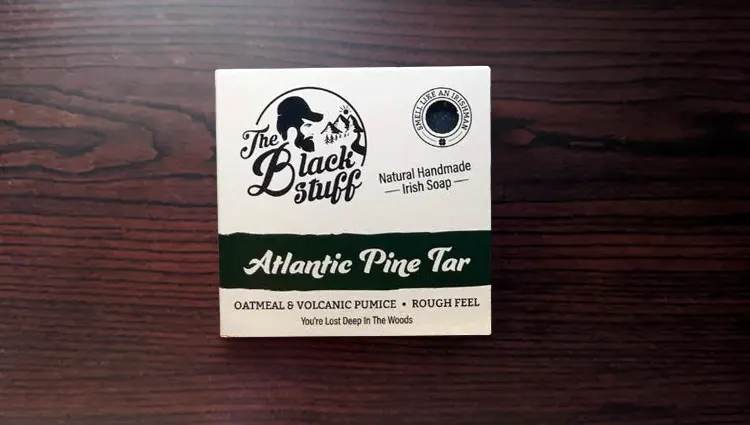 Not to understate its cleanse game, this soap also packs a slightly abrasive texture, accommodating just the right amount of pumice and oatmeal to slough off dead skin and grime. Another highlight is its impressive lathering ability, delivering ample foam and lasting surprisingly long.
This soap is a steal at just $7.75 for a bar, weighing around 5oz—a price that's nowhere near Dr. Squatch's version but almost as effective! And needless to mention, the artisanal look of the soap makes it a perfect gift or a regular self-pampering treat.
5. Duke Cannon Supply Co. Pine Tar
The Duke Cannon Supply Co. Pine Tar soap is a giant among its peers. Almost surreal in size, one bar is built to last you a month, at the very least. Beginning with the artful packaging, every soap box from Duke Cannon feels like an unwrapping experience.
This soap's lather game is strong, possibly the best among all Duke Cannon variants I've tried. The scent is pleasing and reminiscent of days spent camping and chopping firewood—memories that recent city living cannot replace. An interesting twist is the subtle oak barrel undertones, adding layers to the pine scent. The soap has won instant popularity in our home, as my husband finds it challenging to pick a favorite between the new Pine Tar soap and the previously introduced Fresh Cut Pine soap.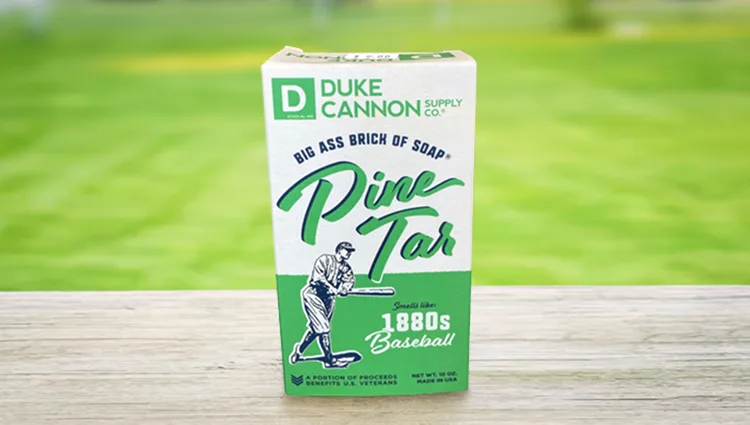 The pine tar aroma splendidly wafts around the bathroom, lending a feel of the great outdoors. You experience the spirit of an outdoor adventure without stepping out of your home. Priced around $9.00 per massive 10 oz bar, it's fair for the generous size it offers. Though amusing, the 'Big Ass Brick of Soap' can be challenging to hold, especially if you're prone to drop soap on your toes—ouch! A quick fix is cutting the bar into two halves for a more manageable size. Just beware as it could leave a rustic brown residue on your soap dish.
6. Swanky Badger Northern Pine
Swanky Badger really did their homework with their Northern Pine soap. Armed with an ingenious packaging design featuring a tree-shaped opening, the aroma gently wafts out accompanying the unboxing with a delightful olfactory experience.
Like other soaps from Swanky Badger, the bars are smaller, packaged as neat squares. Though initially a tad inconvenient due to sharp edges, the bar smooths out with use.
The soap's aroma is distinct—reminiscent of a Christmas tree, embodying the holiday spirit all year round. Balanced, potent but not overwhelming, its refreshing woodsy fragrance lingers on your skin, leaving a scented trail even post-shower.
Texture-wise, it offers a wonderful squeaky-clean feel, providing an exfoliating experience without the use of charcoal. Additionally, this soap boasts impressive durability, punching above its weight compared to similarly priced offerings.
Retailing at $8.99 for a 5oz bar, this soap brings great value to the table, particularly answering the call for those dry winter days. It's an excellent choice for an indulgent treat or a thoughtful gift.
7. Sudsy Bear Old Forest Pine Tar Soap
If you are a fan of Dr. Squatch pine tar soap, then you should really love this product! It has the same crisp, pine-scented aroma as that soap and smells almost identical to it. The scent is so realistic that you'll think you're in a forest as you soap up.
I also really love that it leaves no oily feeling as you wash, which is something I haven't experienced with many soaps in the past. The grit of the pumice powder and oatmeal also makes for a really satisfying scrubbing experience!
It comes in a 6.25 – 6.50 oz bar that lasts for about two to three weeks if you use it every day. They use only 5% pine tar in their soap, which makes it a great option if you're looking for something milder.
I highly recommend this soap if you're looking for something that can be used by both men and women alike (although it's marketed toward men). And if you order online, they'll send you some free samples of other soaps from their line, so you can try out different scents before committing to a full purchase.
8. Bearsville Soap Pine Tar & Lemongrass
This is a premium men's soap made in the USA. It is handmade in small batches using the traditional cold-process method, which means that it does not contain any harsh chemicals and retains natural moisture.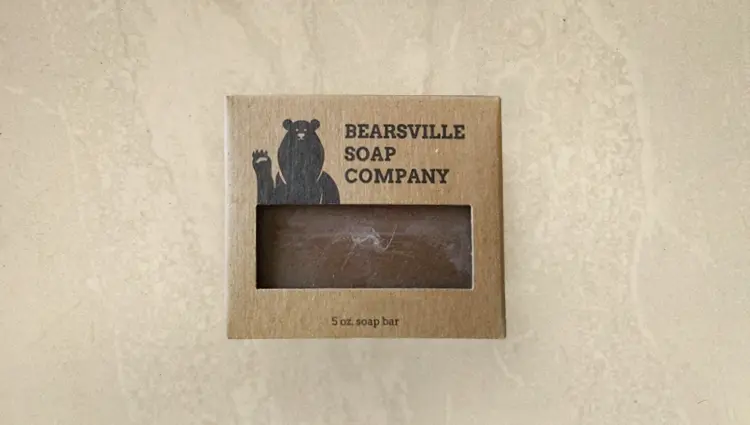 I don't know how else to describe it, but the scent is reminiscent of a true woodsman—or at least someone who spends a lot of time outdoors. It smells like a bonfire or smoke from burning pine trees—definitely distinct from most other soaps out there.
The bar itself is about 5 oz and lasts for about two weeks if used every day. It's also cruelty-free, so you don't have to worry about using products that were tested on animals.
I highly recommend this soap to anyone who is looking for an artisanal product, as well as a meaningful gift item.
9. Oliver Rocket Pine Tar Soap
I first discovered this soap at my local farmer's market, and I've been buying it ever since. It's the perfect soap for anyone who wants to try something different but doesn't want to spend a lot of money on it. This soap is made with all-natural ingredients, including soybean oil, olive oil, and coconut oil, which makes it very moisturizing.
My husband uses this soap exclusively on his face and in his beard—he says it helps clear up his acne and moisturizes his skin really well. He also thinks it smells great—not too strong, but rather subtle, like walking through a pine forest.
The little pumice flakes give your skin a nice scrubbing action when you wash with this soap, but it's not scratchy at all like some other brands can be. It lathers easily and leaves your skin feeling clean and soft.
This soap comes in a 7 oz bar for $5, which makes it an affordable option for those who want to try something that's not going to break the bank.
It lasts between 1 to 2 weeks, but that's if you use it daily. And the blackish suds are nice—it has less charcoal than some other soaps we've tried, which means that this one doesn't leave behind as much residue.
The Bottom Line
The bottom line is that pine tar soap can be a great option for people with psoriasis or other skin conditions. It helps relieve itching, inflammation, and redness while also providing relief from dry and flaky skin.
But it's important to note that pine tar soap is not a cure-all. It will not get rid of your psoriasis or eczema overnight. You may have to use it for several weeks (or longer) before you see any improvement in your symptoms.
Hopefully, you found the list above to be informative. But at the end of the day, it's up to you to decide if pine tar soap is right for you and your skin. If you have psoriasis or another skin condition that needs treating, we recommend heading to a dermatologist first. They can help you determine the best treatment plan for your particular condition.