I like to switch up my bar soaps periodically, and I've been trying out some goat milk soaps lately.
Goat milk has been used for therapeutic purposes for centuries, and it's no surprise—lactic acid, one of the main ingredients in goat milk soap, has multiple benefits. It's an alpha-hydroxy acid (AHA) that helps to exfoliate dead skin, and studies support its use as an effective acne treatment. It's also effective for treating skin infections and other pathogenic organisms.
The pH of goat milk is almost identical to the pH of human skin, which means that it's gentle and won't irritate your skin. My dermatologist also recommended that I use goat milk and oatmeal in the bath to help soothe itching from eczema or other dry skin conditions.
Finding a good goat milk soap can take time because there are so many brands on the market. But to save you some hassle in your search, here's my list of personal favorites available today!
1. Beekman 1802 Goat Milk Soap
I've been using Beekman 1802 Goat Milk soap for years, and I've never been disappointed.
This triple-milled soap contains goat's milk and glycerine. It smells heavenly, lathers well, and is long-lasting. It is also non-drying, so I don't feel like I have to apply lotion afterward.
After using it for a couple of weeks, I noticed that my skin was radiant, soft, and smooth. It also does a good job of cleansing without leaving behind any film on my soap dish or in my shower—a problem I've often run into with other soaps. It's also gentle enough to use on sensitive skin. You can use it every day without having to worry about breaking out or having any problems with your skin because of it.
Because the bar was too big to fit in my hands, I simply cut it lengthwise into two smaller bars. This makes it easier to hold comfortably in the shower and also makes lathering up much quicker.
The soaps come in different scents, so there's one for everyone! They even have an unscented version, but I don't know what's up with that because my unscented soap had a weird scent to it… but that might just be me.
I really like their Vanilla Absolute, Honeyed Grapefruit, Fig Leaf, and Acadia scents. You can smell a little bit of butter or milk as soon as you put it on, but not while you're actually using it or after you're done showering.
I love the amount of product you get for your money with this soap. It's 9 ounces, so that makes it a great deal. My only issue with this product is the price tag; $15 is not cheap for a bar of soap! But it's worth every penny because it works great and lasts forever!
2. Zum Bar Goat's Milk Soap by Indigo Wild
I love that this soap is handmade in small batches, so you know you're getting something fresh. It also means there aren't any harsh chemicals in it—so your skin can breathe!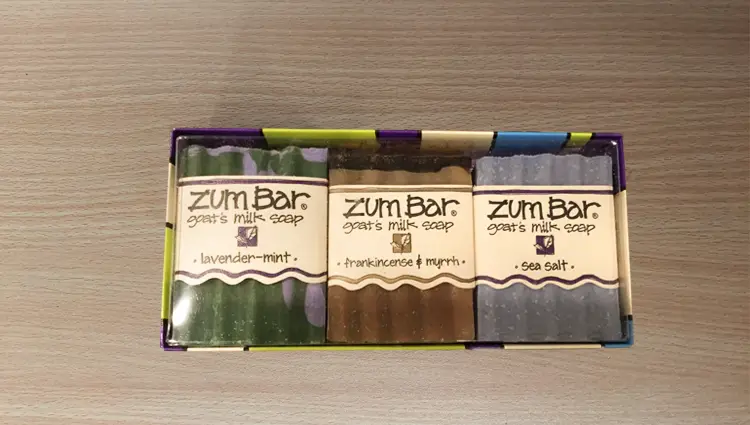 The soap comes in a three-pack bundle and has a strong fresh smell that lasts all day. It lathers well and cleans nicely too! Plus, it's relaxing to use—you feel like you're doing something good for your skin.
It works great on my eczema-prone skin and minimizes my symptoms. The natural fragrances are bold but manly, so they're perfect for guys who want something masculine while still caring about what goes into their bodies. My favorite scents are Frankincense & Myrrh and Sea Salt—they're both refreshing and invigorating! My husband prefers Patchouli.
I've placed small pieces of this bar around the house so that when my friends come over, they can smell it right away. This soap would make great gifts for anyone who loves handmade products or just wants to try something new.
The only thing that I don't like about it is that it doesn't last as long as regular soap. A single bar is 3 oz., and costs around $6, which is a little more expensive than other brands I've used. They're a little cheaper in stores than online, so you might want to check out that option before ordering online.
3. Caprina by Canus Fresh Goat's Milk Soap
I'm a big fan of Canus goat's milk soaps. They're traditionally saponified, and they have a very pleasant fresh smell—one that's long-lasting and lovely.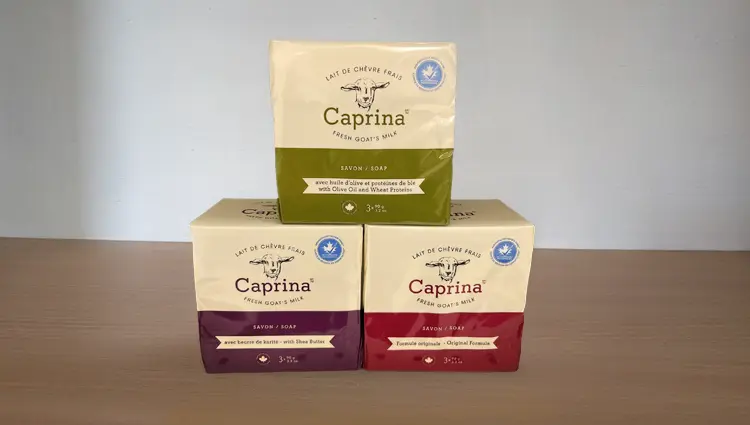 The soap lathered up very nicely, and it left my skin feeling clean and soft without feeling dry or tight. I noticed that it also left my skin with this subtle dewy glow after using it for about two weeks straight—and I feel like it helps keep my skin moisturized as well.
It doesn't leave a greasy residue in the tub after I'm done showering, which is great because I hate having to rinse out my tub after each shower. It also helps to combat acne and breakouts. I also use it to shave my legs. It works great! Even when used daily, the soap lasts for a long time.
The original scent is a delight—it smells more like a man's cologne than a woman's perfume. I love that about it because I prefer scents that aren't too flowery or feminine. It also comes in several other scents—including Eucalyptus Mint, Lavender, Shea Butter, Olive Oil & Wheat Proteins, and Unscented versions—so you can find one that suits your preferences.
I use it mostly in the winter when my skin gets very dry—the one with shea butter added is perfect for this time of year! If you have very dry skin I recommend that one.
The soap comes in 5 oz and 3.2 oz bars—I like to keep a few of each around so I never run out! The price is very reasonable: it won't put a huge dent in your wallet!
The only downside is that this soap is getting more and more difficult to find in stores—I had to order online last time around because none of my local stores carried it anymore.
4. Southern Natural Goat Milk Soap
When I first started using this soap, I was a little worried that it might be too strong for me. The scent is very strong, but after a few minutes of my shower, it starts to lighten up and become very soothing.
I am especially fond of their Dead Sea Mud and Charcoal soap with goat milk, which has become a regular part of my skincare regimen. I've gotten into the habit of using this soap as my daily face wash as well as my body wash. It's easy on sensitive skin and definitely helped with my eczema. No longer dry and it doesn't flake up!
I used to have very dry patches of skin on my arms, but now they're soft and smooth! And this soap doesn't cause irritation at all—it's gentle enough for sensitive skin.
It's not too sudsy like commercial soaps and comes in several other scents including Spa Fusion, Lavender, Rosemary Mint, and Oatmeal Milk & Honey. The smell will light up the whole bathroom and leave you feeling clean without drying out your skin.
If you let the bar air dry after use (which I do), one bar will last about a month if you take 1 shower per day. It does not turn mushy on the soap holder like many other soaps do.
The bars are 4 ounces and cost $8.99 each, making them a bit pricey for me personally. However, I would recommend these products to anyone who suffers from dry skin or eczema!
5. Legend's Creek Farm Goat Milk Soap
I love this soap! It's my husband's favorite, and he has been known to take a bar with him when we go on vacation just so he can use it. It lathers exceptionally well and leaves your skin feeling incredibly moisturized.
I appreciate the minimal packaging and variety of scents. There are 15 different ones to choose from, and I've tried most of them! My favorites are Sandalwood Patchouli, Madagascar Vanilla, and Nag Champa. They also offer an unscented version if you want something more subtle.
The company also makes pine tar soap that I'm dying to try soon! In addition to their great scents, they're committed to making sure their soap is as natural as possible—they use only the most basic ingredients like goat's milk, ground oatmeal, coconut oil, shea butter, and sunflower oil.
I cut the soap into four pieces and store it in a wooden holder away from humidity. This helps keep them longer than they would otherwise be, though they still melt faster than regular bars of soap do.
I was initially concerned about trying this soap because I have very sensitive skin that breaks out sometimes, but it is so soothing and has a healing effect on my skin. My husband also loves it—he has super-dry skin from working outside all day long, and he says that this soap helps keep his skin soft. The oatmeal in the soap made the bar a bit scratchy, but overall it performed well on our skin and did what we needed it to do.
The bars come in 5-ounce sizes and were originally $7.99 each—but recently the price increased to $9.99, which is disappointing for customers like myself who have been using these soaps for a while now. But overall I really like this soap!
6. Dr. Squatch Deep Sea Goat's Milk Soap
I bought this soap for my husband as a gift, and he couldn't have been happier. He's a big fan of Dr. Squatch soaps, and he's been buying them for years. The reason I got him this particular one was because he suffers from dry skin and eczema—he said it helped clear up his back and shoulder acne and cleared up his dry patches.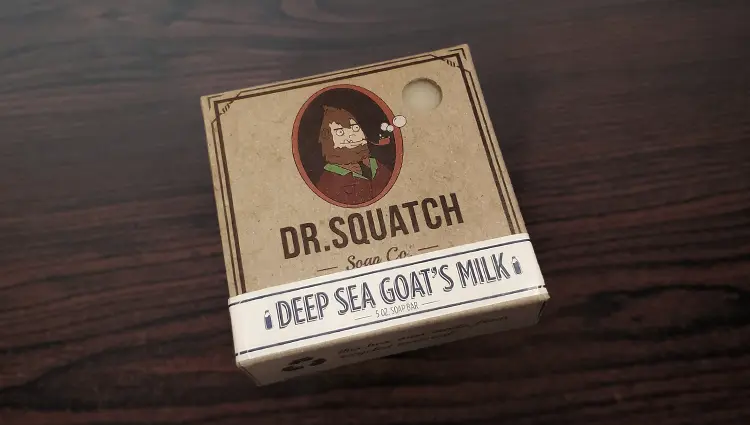 The product isn't over-packaged, which is something I really appreciate; they use items that can be recycled or reused. The smell was pleasant, the exfoliating grit was a nice touch, and there were no greasy or oily residues left behind after use.
Some of the exfoliating grits are a bit large and too scratchy, though—which can be painful if you're not careful with how much pressure you apply to your face while scrubbing down there. I would recommend using a washcloth or sponge instead of just your hands to keep from scratching yourself up!
I found that this soap deteriorated quickly, just like other Dr. Squatch soaps I've tried. It disintegrated after about 10 days—disappointing for me given the price I paid ($10 for one bar of soap).
I would recommend getting a Hawaiian soap holder in order to protect your investment and minimize wastage. In general, this is an excellent product that will leave you feeling clean and fresh with every shower!
7. Goat is GOAT Pure Australian Goat Milk Soap
I originally purchased it because a friend from Australia recommended it to me. She said that she had been using it for years and couldn't stop raving about how amazing it was for her skin.
The packaging is also recyclable, and the ingredients are sustainably sourced—making me feel like I'm doing something good for the planet as well as keeping my skin happy.
This soap is made with Australian goat milk and palm oil, and it's super gentle on the skin. The soap has a super lovely texture, and it smells amazing.
The Original one is almost completely without scent, but if you prefer something more potent, there are nine other scents to choose from—Lemon Myrtle and Oatmeal are my friends' favorites. I enjoyed using their Manuka Honey soap, and it created a thick lather that lasted throughout my shower.
It doesn't seem to leave residue on your skin like some soaps do, which I really appreciate. It's suitable for dry, itchy, or sensitive skin, and it lasts a long time before you need to replace it. The bar itself isn't huge but it's dense enough for daily use.
Each bar is 3.5 ounces, and with regular use, it lasts me about 2 to 3 weeks. If you buy in bulk, each bar costs around $3—that's much cheaper than most comparable products!
Concluding Thoughts
Goat milk soap is an excellent option for people with dry, delicate skin. It's packed with vitamins and minerals—including Vitamin D, C, B1, B12, and E— and has anti-inflammatory properties. It's also a great choice for people with sensitive skin since it won't cause irritation or allergic reactions like some soaps can. If you haven't tried goat milk soap before, I highly recommend giving it a go.
I hope this review has been helpful. I had a great time trying out these products and learned quite a bit in the process! If you have any questions about the products or your own experience with goat milk soap, please leave a comment below. I'd love to hear from you!