Recently, my husband and I had the opportunity to test all three of Dr. Squatch's new cologne scents: Fireside Bourbon, Woodland Pine, and Glacial Falls. In this blog post, I'll share our experience with each scent and rank them based on their scent profile, potency, and value for money.
Before we dive into the new scents, let's take a moment to reflect on the history of Dr. Squatch's cologne line. The brand previously offered two scents, Sandalwood Bourbon and Crushed Pine, which were ultimately discontinued. The general consensus was that these fragrances were too expensive for the quality they delivered. The new colognes have a different formula and come in a redesigned bottle for $59. Each bottle is 1.7 oz or 50ml. The bottle is made of glass, and the cap features a faux leather band around it. This extra touch makes the experience more luxurious.
As a fan of their soaps and deodorants, I was eager to try out Dr. Squatch's line of colognes when they arrived at my doorstep. So, without further ado, here's the ranking of scents from best to worst:
1. Fireside Bourbon
As the sun sets on a chilly autumn evening, there's nothing quite like sitting by the fire with a glass of bourbon. And now, thanks to Dr. Squatch's new Fireside Bourbon cologne, you can capture that same essence wherever you go.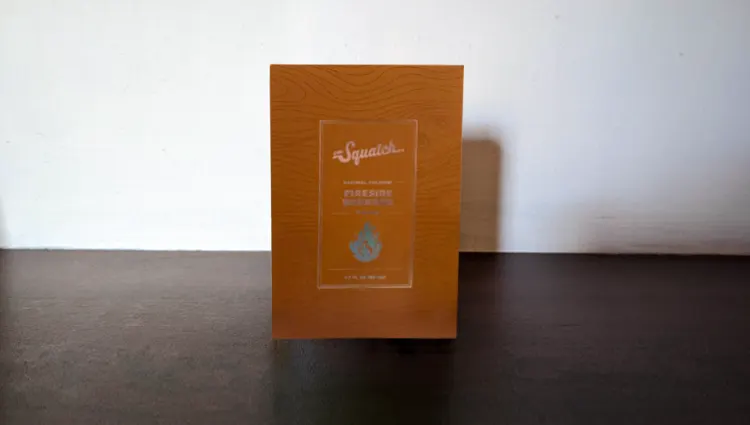 Of the three Dr. Squatch colognes, Fireside Bourbon is undoubtedly my favorite. Made from only a few simple ingredients, it's a perfect accessory for the modern-day Casanova. One spritz and you'll be transported to a cozy cabin in the woods, sipping on a warm bourbon by the fire. The notes of cedarwood, clove, and patchouli come together to create a rich, woodsy scent that's reminiscent of your favorite whiskey but not overpowering.
Don't let the simplicity of this cologne's ingredients fool you – it packs a punch! It has the loudest scent out of all three, with an unmistakable Fireball Whiskey aroma (in a good way). The fragrance is rich and woodsy but also slightly smoky, which makes it stand apart from other scents on this list. It's the kind of fragrance that will turn heads and leave people wondering what smells so damn good.
The smell will stay on your skin for about 6 hours, but the company claims it will last all day. If you're looking for something that has more staying power, then it's not a good choice. The handy travel-friendly bottle is great for those on-the-go moments when you need a quick spritz of cologne before heading out the door.
Overall, Fireside Bourbon is a winner in my book. It's unique, masculine, and perfectly captures the essence of a cozy campfire. So if you're looking for a new cologne to add to your arsenal, give this one a try – you won't be disappointed.
2. Woodland Pine
My second favorite scent is Woodland Pine, which has a more muted aroma than Fireside Bourbon but retains the woodsy feel of a pine cologne. If you're familiar with the limited edition Dr. Squatch's Snowy Pine Tar soap, this one will be right up your alley: it smells very similar!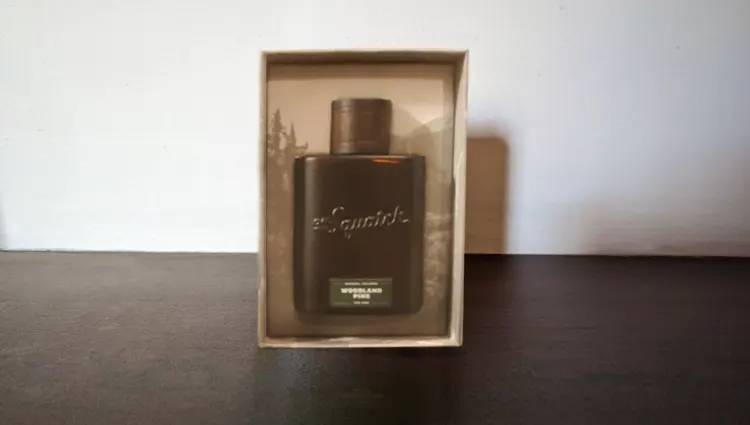 One thing I noticed about the Woodland Pine scent is that it's the most natural of the three flavors. The blend of cypress, pine, and vetiver creates a scent that's both earthy and refreshing. It's not overpowering, but it's definitely noticeable, and it lasts for a decent amount of time.
The packaging is also top-notch. The bottle is sleek and stylish, and the box it comes in is perfect for gifting to a friend or loved one. The unboxing experience is definitely something to look forward to, and it adds to the overall enjoyment of using this product.
If you want to enhance the potency and longevity of the Woodland Pine cologne, pairing it with Dr. Squatch's Pine Tar soap or lotion is a great idea. The soap and lotion have a similar scent profile, which will help to strengthen the fragrance of the cologne.
Another method to make the scent of your cologne last longer is by applying a dab of petroleum jelly to your wrists and neck before spraying on the cologne. This will make the fragrance stick to your skin, allowing it to last longer than if you sprayed it on dry skin.
All in all, Woodland Pine is a great cologne. If you're looking for something that won't overwhelm you but still evokes the same forest-y feeling as sleeping outdoors (but in comfort!), it might be right up your alley!
3. Glacial Falls
First of all, Glacial Falls is currently ranked at #3 in our ranking, but it's not bad at all. In fact, both my husband and I liked it—it feels like a cologned version of their Fresh Falls soap which we really enjoy.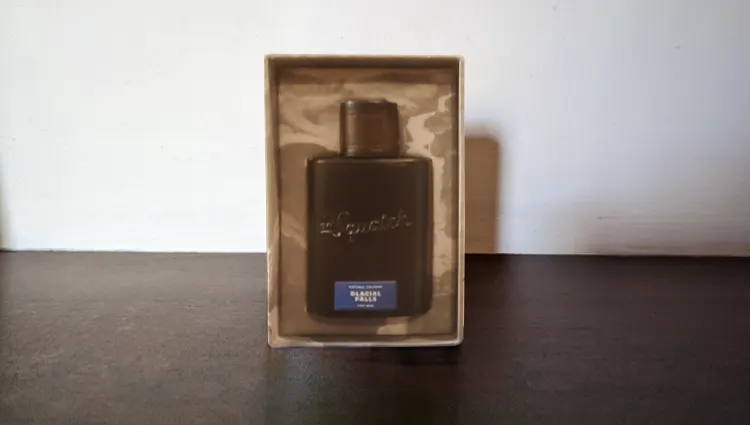 The scent itself is a nice citrusy fresh scent with notes of bergamot and clove. It's not as loud as Fireside Bourbon, but it still has a noticeable presence. However, it would be amazing if it were as loud as say Cool Water or Eternity Blue.
The scent is very fresh, energizing, and cool, which makes it perfect for summer. However, if you prefer more manly, musky scents, this is not for you. It's important to note that it smells identical to the old spice sport body wash.
One of the best things about Glacial Falls is how long it lasts. It can last for 12 hours, which is impressive. If you want to boost the potency of the scent, try pairing it with their Fresh Falls soap or lotion. It'll strengthen the scent and make it last even longer.
Overall, if you're a fan of fresh, energizing scents and want a cologne that's not too loud, Glacial Falls is definitely worth checking out.
Final Thoughts
After trying out Dr. Squatch's colognes, I have found that these scents are not without their merits—but there are some drawbacks to consider.
On the positive side, I found the scents to be quite potent, with just a small amount going a long way. Additionally, each scent offers a unique vibe, with Fireside Bourbon being my personal favorite due to its warm and inviting aroma.
However, it's important to note that scent preference is highly subjective, and what works for one person may not work for another. This makes the lack of a sample kit a major drawback, as it's difficult to commit to a full-priced product without first testing it out.
Speaking of price, Dr. Squatch's colognes are on the expensive side. Each scent costs around $59, while a bundle of all three will set you back $127. If you're looking for an affordable option Duke Cannon also offers natural cologne in both solid and spray form for roughly $30.
If you're willing to take the risk without trying a sample first and can afford the higher price point, these scents may be worth it. However, for those on a budget or who prefer more transparency about the ingredients they're putting on their skin, there may be better options out there.