As someone who's always on the lookout for natural and eco-friendly products, I recently came across the family-owned Grandpa Soap Company and their intriguing Pine Tar soap. Proudly made in the USA, this company has a long-standing history of creating high-quality, natural soaps using time-tested recipes and sustainable practices.
One of their flagship products, the Pine Tar soap, piqued my interest with its unique appearance and claims of being a versatile, all-natural cleanser that's even recognized by the National Psoriasis Foundation.
I'll never forget the first time I used the Pine Tar soap. The distinct, smoky scent transported me back to childhood memories of camping trips and sitting around a crackling campfire. It's one of those scents that makes you feel instantly nostalgic. It's also incredibly soothing, which is why I think it's so popular among moms who suffer from PUPPP rash.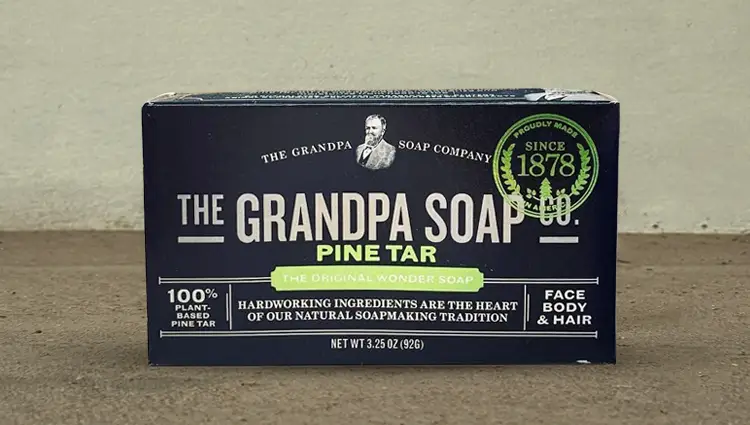 In this blog post, I'll be sharing my personal journey with the Grandpa Soap Co.'s Pine Tar soap, exploring its various features, and evaluating its overall effectiveness. Join me as I delve into the world of this remarkable soap and determine whether it's worth incorporating into your daily skincare routine.
My Review of the Grandpa Soap Co. Pine Tar Soap
After using up a whole bar of this soap, I feel like I've gained enough experience to share my opinion with you. In the following sections, I'll be evaluating this product across several categories for your ease of understanding.
Packaging
Upon receiving my 4.25oz soap bar, I was immediately impressed by the well-thought-out packaging. The soap arrived in a simple, yet charming cardboard box, which I appreciated for its eco-friendliness as there was no messy plastic packaging involved.
As I inspected the package, I was greeted by Grandpa's welcoming face on the logo, which added a touch of warmth and personal touch. Turning the box over, I found the history of the soap printed on the back, which added an interesting and nostalgic element to the product.
One aspect that particularly stood out to me was the list of ingredients on the left side of the box. It was easy to understand and, to my delight, didn't contain a long list of unpronounceable chemicals. It's refreshing to find a soap that keeps things simple and natural.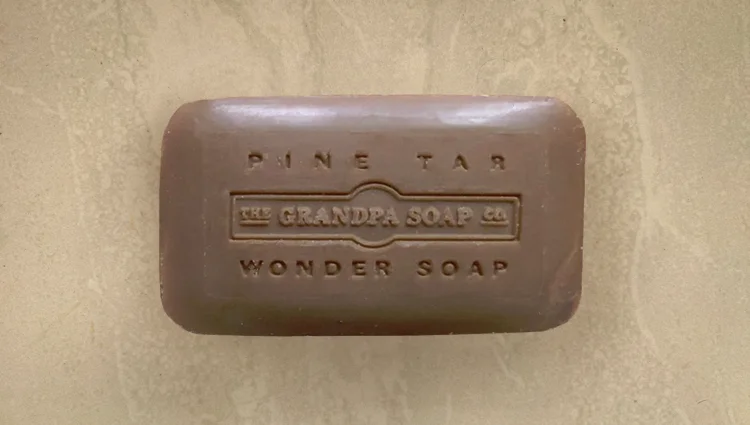 Even before opening the box, I could already detect the enticing aroma of the soap, making me excited to give it a try. Once opened, I was met with the soap's deep brown hue, which contributed to its rustic allure. The stamp on the soap, boldly declaring it as their original pine tar wonder soap, further enhanced the overall aesthetic appeal.
Scent
Upon opening the box, I was immediately struck by the powerful, manly aroma that filled my entire bathroom within mere minutes. The scent was reminiscent of a brand-new leather belt combined with the refreshing smell of freshly-cut branches, creating an incredibly unique and invigorating experience.
As I lathered the soap onto my skin, I was pleasantly surprised to find that the strong scent did not linger on my skin for too long after my shower. Instead, it left a subtle hint of pine tar that gradually faded away within an hour or two. This was perfect for me, as I didn't want to be overwhelmed by the scent throughout the day.
In my opinion, this soap offers a refreshing change from the perfume-heavy soaps that saturate the market. My husband is also a fan of this soap, as he appreciates how it leaves his skin feeling pleasant and doesn't carry a "girly" scent whatsoever.
While I haven't had the chance to sample the other nine scents crafted by this company, my encounter with their Pine Tar soap leads me to believe they are just as impressive—and I can't wait to explore them all.
Cleansing Power
One aspect I particularly appreciate about this soap is its ability to create a rich lather, even in hard water. The lather is white, just as the box described, which is a refreshing change from other pine tar soaps I've tried before that produced a black lather and left a mess in my bathroom. With the Grandpa soap, I get plenty of suds to cleanse my body, making my shower experience both enjoyable and efficient.
In terms of its effectiveness in removing dirt, oil, and sweat, I must say I'm quite pleased with the results. After a long day of gardening or working out, this soap works wonders on my skin. It seems to act almost like a first aid cream, providing a protective barrier against poison ivy oil and helping to heal minor cuts and scratches.
I've even found this soap to be beneficial for my psoriasis and extremely dry scalp. On occasion, I use it as a shampoo, and it seems to provide some relief for the dryness and itching. I also love how soft my skin feels after using this soap. And because it rinses off easily, I don't feel like I'm wasting water!
However, I should note that my husband tried using this soap for his traditional wet-shave routine, but he found that the lather wasn't thick enough for his liking. So, if you're looking for a soap specifically for shaving purposes, this might not be the best option even though it's advertised as being good for that purpose.
Size and Lifespan
The soap comes in two sizes – a 4.25 Oz. bar and a smaller 3.25 Oz. bar. I found the smaller size to be incredibly handy for traveling, making it easy to carry with me wherever I went.
As for the soap's longevity, I have to be honest, it wasn't the greatest. With daily use, the soap lasted me around 2.5 to 3 weeks. However, on the bright side, I did notice that the bars seemed to last a tad longer than the Dr. Squatch's version I had used previously.
One thing that struck me was how quickly the stamp on the soap wore off – within just 2 or 3 showers. Additionally, the bar did shrink at a noticeable pace. Yet, despite this, the soap managed to maintain its shape as it got smaller, which I found quite remarkable.
I also appreciated that the soap didn't melt into my soap dish like other brands I've tried in the past. To help the soap last longer, I placed it on a wooden tray, which worked wonders. I also made sure to keep it as far away from the shower head as possible to minimize any accidental soap loss.
When using the Grandpa Soap Co. Pine Tar soap, I opted for a washcloth or a loofah to make the most of it. In summary, I found the soap to be quite convenient for its size and enjoyed using it in my shower.
Brand Reputation
Grandpa Soap Co. is a family-owned business with a rich history dating back to 1878. Their commitment to using the very best ingredients and engaging in environmentally-responsible practices aligns with my personal values and lifestyle choices.
The soap is made with 100% pure kiln-burned Wood Tar, imported from Sweden, and is dermatologist-tested, making it safe for my sensitive skin. Their closed vacuum system at high temperatures eliminates the generation of creosote, and they closely monitor and test their products to ensure quality and uniformity. I also admire their dedication to sustainability, having planted 30,000 trees to date and pledged to continue planting more.
Grandpa Soap Co. ensures that their products are vegan-friendly. This means that they do not contain any animal-derived ingredients or byproducts, making them an ideal choice for those who follow a vegan lifestyle or simply prefer cruelty-free products. In addition, their packaging is made from recycled materials and their products are biodegradable.
Upon examining various online platforms, it's evident that Grandpa Soap Co. enjoys an abundance of favorable feedback from satisfied customers. Many individuals have shared their positive experiences with the company's products, highlighting their effectiveness and the fact that they don't contain any harmful chemicals.
Price and Value
Starting at only $4.59 for the 3.25 oz. bar and $5.89 for the 4.25 oz. bar, Grandpa Soap Co.'s Pine Tar soap is an economical choice in the market. However, I've found that you can actually save a dollar on each bar when purchasing from other online retailers like Amazon or Walmart.
When comparing Grandpa Soap Co.'s Pine Tar soap to other options on the market, I found that it's priced quite competitively, as you can see from the chart below. In fact, it's a much better deal than Dr. Squatch's version, and it lasts longer too!
One thing I wish they offered is a subscribe and save option, as that would make it even more convenient to keep a steady supply of this wonderful soap. However, I do appreciate that I can purchase it in bulk directly from their website, which saves me time and effort. Plus, they offer free shipping for orders of $50 or more, which is a nice bonus.
Another factor that adds to the soap's value is its impressive shelf life of 5 years. This means you can stock up without worrying about it going bad before you have a chance to use it all. And for those who prefer a liquid option, they also have a body wash version of this soap available for $9.99.
Pros & Cons
REASONS TO BUY
The 3.25 oz. soap bar is compact enough to take on trips

No black stains on the body or in the tub

Environmentally responsible

Relatively inexpensive compared to other pine tar soaps
REASONS TO AVOID
No subscription services or bulk discounts

Scent tends to dissipate quickly on the skin

Some people may find the scent too overpowering
Overall Rating
Overall, my experience with Grandpa Soap Co.'s Pine Tar Soap was positive. The soap left my skin feeling soft and clean, with a nice thick lather that lasted throughout the entire shower.
This generous-sized soap is perfect for daily use and is beneficial for treating skin conditions like psoriasis, dandruff, and eczema. It's also free of phthalates, sulfates, and parabens, and the ingredients are sourced and utilized in an environmentally-responsible manner.
Very Good
Here is my personal evaluation of the Grandpa Soap Company's Pine Tar soap, examining each performance criterion. I rated it on a scale from 1 to 10, with 10 being the highest score possible in each category:
The company also offers a range of other products with this scent, including body wash, conditioner, and shampoo. I look forward to trying those out in the future and will be sure to update my review.
Considering its effectiveness and value for the price, I wholeheartedly recommend trying this soap for a truly rejuvenating shower experience.
Ingredients Information
Sodium Palmate
Sodium Palm Kernelate
Sodium Cocoate
Water (Aqua)
Glycerin
Pinus Palustris Wood Tar
Sodium Chloride
Sodium Gluconate
Other Options to Consider
Duke Cannon Supply Co. Pine Tar