The smell of a man is as unique as his fingerprint. But sometimes, it can be a little too unique. We're talking about body odor, which can be particularly unpleasant when left unchecked. This is why it's important to have a natural deodorant on hand.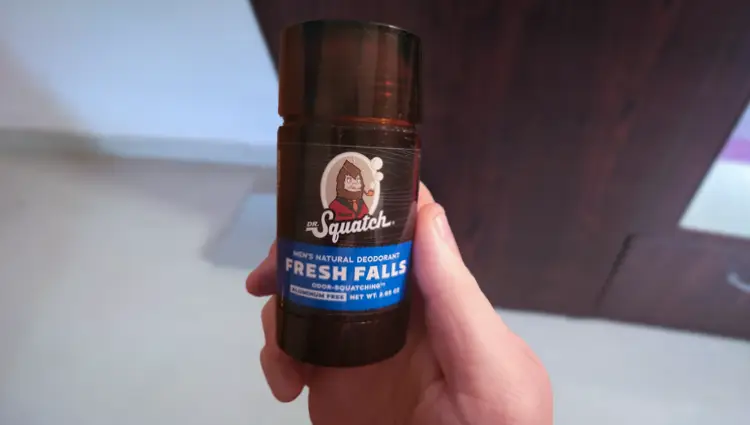 When it comes to deodorant, there are few brands that stand out from the crowd. Even fewer offer truly natural options without sacrificing odor protection or making skin feel like it's on fire. All of which is a pain if you're looking for a specific scent.
Dr. Squatch is one of those few brands that offer a variety of scents for its deodorant and soap products. The brand's scents are inspired by nature and range from the bright, citrusy scent of "Fresh Falls" to the deep, earthy tones of "Gold Moss."
My husband and I have been using Dr. Squatch deodorant for a few months now, and we both love the scents collection. It does a great job of masking body odor, especially during exercise. I also love how compact it is—it fits perfectly into my gym bag!
Below, we've listed six of our favorite scents from their deodorant line-up. They're sure to keep you smelling fresh throughout the day, no matter how many miles are left in your day:
1. Fresh Falls
Fresh Falls is a great option for those who want something that lasts all day. It's designed not to irritate your skin and has a refreshing, clean scent that won't overpower you.
It's made with aluminum-free ingredients and designed to be gentle on the skin. The scent is a mixture of citrus and mint that gives off a refreshing aroma that lasts all day long!
It has the charcoal powder to block odor from your armpits and arrowroot powder to absorb moisture, so your pits stay dry and odor-free.
I really like this scent—it's subtle but still smells good enough that I want people near me to smell it too. It lasts me about 24 hours before I have to re-apply it again.
The only thing I'll say is that if you're looking for something super strong like Old Spice (which smells great), Fresh Falls may not be quite as powerful as you'd expect. But if you want something subtle yet effective, this is a great option!
2. Wood Barrel Bourbon
If you're looking for a deodorant that will definitely be noticeable in its own right, Dr. Squatch's Wood Barrel Bourbon is the way to go.
While its scent is not going to fill up an entire room, it'll spread far enough that your friends will definitely notice it on you—and they'll like it too! The blend of spice and bourbon smells great, but it's a bit heavier than the other scents we tested out.
If you sweat heavily or are very active at night (like those who work construction), this might be the best option for you. As long as there isn't too much heat involved in your daily activities, this deodorant should do well at keeping odor away without causing redness or irritation.
3. Pine Tar
Pine tar smells like fresh pine with a hint of sweetness, and it's for people who want to smell like they just came from the woods. The scent is very strong and will linger on your body all day. It's also great for people with sensitive skin because it doesn't contain any chemicals or harsh ingredients—it's just good old-fashioned pine tar!
If you live in a hot climate and sweat a lot during summer months (like I do), then pine tar can be an excellent choice when paired with the right soap or shampoo. I used Dr. Squatch's Pine Tar shampoo & conditioner before using their deodorant and found myself feeling completely refreshed when I got out of the shower—and smelling great throughout my entire day!
Overall, this was an excellent product to start with when exploring Dr. Squatch's offerings because it has a very potent scent: much stronger than their soap version!
4. Birchwood Breeze
Your first impression of this deodorant is likely to be "it smells really good." This deodorant has a woodsy, earthy scent that smells like a forest after the rain.
The scent is very light and refreshing, but it also lasts all day long. It's a great scent for guys who like to smell clean but not too strong—you can definitely pick up the bergamot and amber notes in this mix.
It has a reputation for working well for people who sweat heavily, which is especially important if you work in construction or outdoors. The probiotics in this deodorant help prevent the growth of odor-causing bacteria, which means you'll smell fresh all day!
5. Bay Rum
This scent is a throwback to the golden age of men's grooming. If you're looking for a masculine scent that evokes the smell of bubble gum (not everyone's cup of tea), then Bay Rum is a good choice.
If you live in a hot climate, I would recommend that you not use this scent because it will make your body odor worse than it would otherwise. If you live somewhere with milder temperatures or don't mind sweating, then go ahead and try out this scent!
Their ads claim that this deodorant will give off an aroma similar to that of pirates—but we haven't been able to verify this claim yet!
6. Alpine Sage
If you're looking for a light, fresh scent that works well for active people, we recommend Alpine Sage. This deodorant doesn't irritate your skin—for around $12 you get a solid product that should last at least six weeks.
The scent is piney clean and sporty without being too overpowering, so it doesn't clash with your cologne or aftershave. If your gym routine involves running on the treadmill or lifting weights at the squat rack, then this could be just what you need.
It stays strong throughout the day (though this will vary depending on how active you are) and doesn't fade away into nothingness as some "natural" deodorants can do after a few hours of wear.
The only downside of this product? The white residue left behind on dark clothing when washing them – this is a common problem with most deodorants, however, and it's not a deal breaker for us.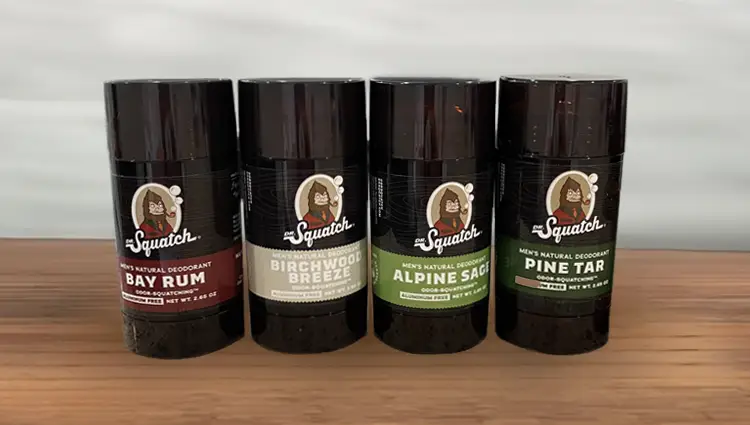 In conclusion
In conclusion, If you are looking for a deodorant that will not give you an allergic reaction, Dr. Squatch is a great option because it is made from all-natural ingredients.
For 12 dollars, it's a bit pricey compared to other deodorants in its class, but it lasts for 24 hours. I do reapply it, though—mostly in the mornings and evenings.
This buyer's guide should have helped you narrow down your options and we wish you luck in finding the deodorant that works for you. There are plenty more on their website if one of these doesn't work out—Honourable mentions include "Summer Citrus" and "Cool Fresh Aloe".
Just remember: Deodorants don't stop you from sweating—they only mask unpleasant odors!