Are you looking for an all-natural, affordable, and effective solution for problematic skin?
Have you been struggling to find a way to clear up acne and hyperpigmentation?
Are you tired of spending hundreds of dollars on products that don't work?
If you answered yes to any of these questions, then black soap is what you need!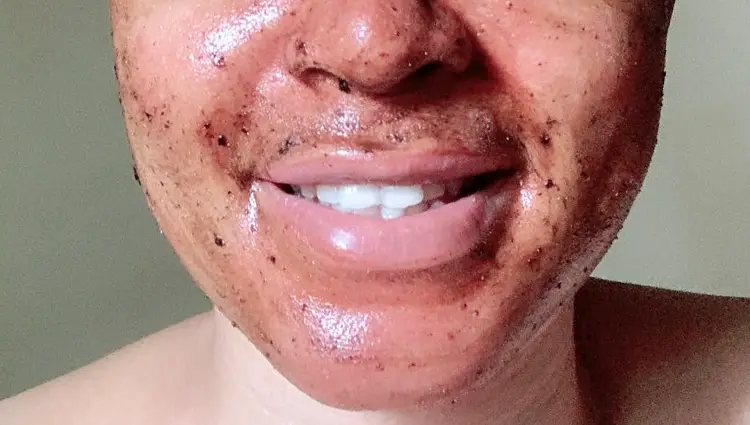 African black soap is made from plant-based ingredients, including shea butter and cocoa pod ash, which give it its dark brown or black color. The soap is particularly useful for problematic skin that takes extra care to make it look good.
African black soap is made with real ingredients, not synthetic ones, so you can trust that it's safe for all skin types and won't make your skin oily or leave behind a residue.
Plus, because authentic African black soap is handmade from plant-based ingredients in Africa—rather than mass-produced in factories—it also supports fair trade practices and local artisans.
This soap is also known as black soap, anago soap, alata simena, and dudu osun.
What Does Black Soap Do?
Black soap can thin out fine lines on aged skin or skin that has been exposed to too much sunlight from an early age. It can help to even out age spots or scars. It can soothe bumps caused by razors. It's also suitable for use on skin that is susceptible to eczema or other inflammatory skin conditions such as dermatitis or psoriasis.
It also has some light exfoliation properties to slough off dead skin and makes skin glow.
You can use black soap on any skin color, type of skin from oily to dry, and within any age range. You can apply moisturizers or makeup after washing your face with black soap.
Black soap often has little smell to it, making it ideal for people with respiratory allergies. Some brands do add natural fragrances, so be aware before purchasing.
What are the Ingredients of African Black Soap?
The ingredients of black soap are pretty impressive. It is made from specific organic matter, which is converted to ash. Oils are added to create the soap.
It begins by harvesting plants such as cocoa pods, palm tree leaves, plantain, or shea tree bark.
This organic matter is sundried.
Using an even temperature, the organic ash matter is roasted in a big metal pot.
Certain oils such as coconut, palm, and palm kernel are added.
The mixture is cooked for one day.
The result of this process is soap.
The soap is left to cure.
Other processes may be done where other ingredients are added, or molds are used to form soap bars.
If plantain is used to make the soap, it will contain a high amount of Vitamins A and E and iron.
If shea tree bark is used, it can offer some UV protection.
Best African Black Soaps
When shopping for African black soap, you'll want to read the reviews for each type to ensure you're buying a quality brand. Some soap bars may have slightly different properties, like antibacterial and moisturizing effects.
With so many brands on the market, each with its own unique properties and uses, it's hard to know where to start. The following seven brands are some of our favorites.
1. Wonderfully Natural African Black Soap
I've been using this soap for a while now, and I'm really impressed with it. I love the fact that this soap is natural and that it's made by a Ghanaian-owned company—that makes me feel good about supporting them. The soap has palm kernel oil, coconut oil, shea butter, and cocoa pod—it doesn't have any chemicals in it.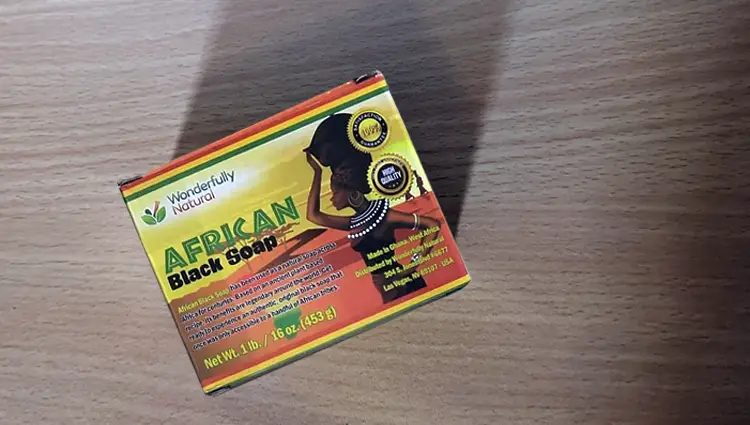 It comes in a block that's about the size of a mini brick, but it can be cut into four equal parts that are each about the size of traditional bars. That makes it easy to use because you just grab a piece when you need it instead of bringing the whole thing into the shower with you!
I have noticed that this soap can cause drying and tightening of the skin if left on too long. You must follow up with a moisturizer to replenish any moisture lost during use. Also, be careful not to apply directly to your face as it may cause irritation!
It does help with dark spots on the body—but only if used regularly. You should expect some results within about 3 weeks of continuous use.
I also tried using this soap in my hair once! It suds up just like regular shampoo but it isn't very moisturizing, so you'll want to use conditioner afterwards. If you have natural 4a/4b/4c curly hair then this would be a good thing to try out
The smell of this soap is decent enough, but not fantastic—it's more of an earthy smell than anything else. I've been using this soap for almost three months now, and I still have half left! So yeah…you could say it lasts a while…
The only thing that surprised me was that it dried out pretty quickly when left in the open air—so make sure to put it in a Ziploc bag when not in use. You can get 16 ounces of this soap for around $16.
It's a dark black soap bar that's blended with tamarind extract, tea tree oil, and shea butter—without any unnecessary fragrance. It has a nice organic cocoa and shea smell that lingers on your skin after you wash your face.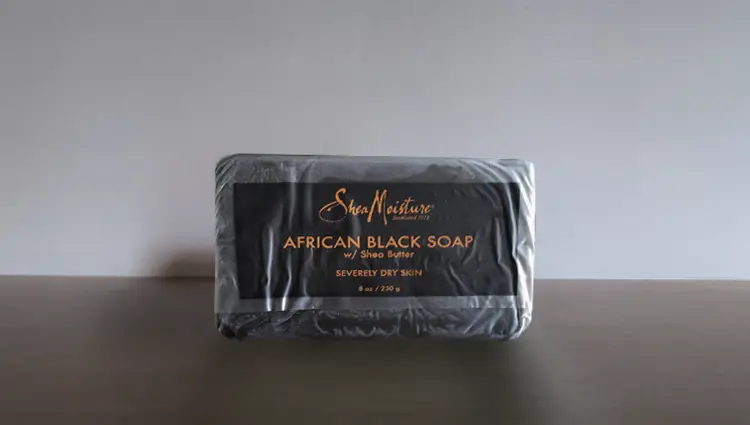 I was worried at first that the exfoliating granules in this bar would be too rough on my skin, but they are actually really great at sloughing off dead skin cells without hurting me or making me red or itchy. The lather is silky and rich, easily washing off your face without leaving any residue behind.
I use circular motions when I massage the soap into my face and neck so it can really get in there deep to clear out all the dirt and grime. Then I rinse thoroughly before following up with their African black soap clarifying toner for an extra clean finish.
I've never experienced any skin irritation or breakouts while using this soap. Be sure to moisturize afterwards, though, because it will dry out your skin if you don't!
If you have any ingrown hairs on your lady parts (or anywhere else), this will help calm them down. It also helped reduce my acne after a few weeks of use—if you're looking for something to clear up mild eczema, this may be worth trying as well.
The Target near me sells the 8oz bar for $3.49 each, which seems like a good price considering how long the bar lasts.
3. Incredible By Nature African Black Soap
I saw a lot of people on TikTok talking about this black soap, so I decided to try it for myself. So when I received my package from Amazon, I couldn't wait to try it out.
I was pleasantly surprised at how mild and pleasant the scent was. It reminded me of raw shea butter, but it wasn't overpowering or off-putting; it was just right for my sensitive nose. The scent didn't linger on my skin at all after rinsing, which is something that I really appreciated.
I love that this soap comes in a 16oz block so I can cut off a regular-sized piece whenever I want to use it or run out. It cuts very easily with an old paring knife into manageable pieces that last more than a week before needing to be cut again.
All you have to do is lather up with a sponge or washcloth after getting it wet. Then rinse it off only after about 30 seconds because letting this soap sit on your skin for too long can cause irritation. That's why I only use it once per day—usually in the morning before work—and then moisturize with a mild organic moisturizer.
It really does diminish the appearance of wrinkles and even helps get rid of deep painful acne. After just one use I could tell that my skin looked clearer and more radiant than before. And after five uses? It was like my skin had been reborn!
The only drawback is that it will disintegrate quickly if kept wet all day long. I keep my bar on a higher shelf in my shower so it won't disintegrate as quickly from being wet constantly. The excess pieces are stored in a large Ziploc bag in case they're needed later on. The one I'm currently using is kept in a little Tupperware container to keep it from being damaged by water.
4. Our Earth's Secrets Raw African Black Soap
It's from Ghana, and it's raw African Black Soap. The ingredients are pretty simple: palm kernel oil, coconut oil, stearin oil, cocoa pod husk, unrefined shea butter, plantain skin ash, and natural vitamin E.
The first time I used it, I was worried about the small particles of plantain skin that could scratch or cause irritation, but that hasn't been an issue at all. The soap does contain small particles of plantains that could scratch or cause irritation if you rub the soap directly on your face or skin, so you should definitely use a washcloth or sponge to lather it up first.
You can also turn it into liquid soap by putting it in water and letting it dissolve 1/3 soap to 2/3 water—it makes a great shampoo, too!
I use a back scrub brush to exfoliate my shoulders, back, and neck so the soap can do its job. It's great for helping calm down acne breakouts if used regularly as well as soothing irritated skin due to eczema or psoriasis flare-ups; however, if your skin gets too dry from using this product regularly then just apply some moisturizer afterwards (I recommend using Palmer's cocoa butter).
The only downside is that it does fall apart pretty easily, so you may need a mesh bag for storing it after use. You can get 3 pounds for $24.99 which is an awesome deal considering how long it lasts!
5. Era of Nature Organic African Black Soap
Compared to other black soaps I've tried, this one has the best lather. It's thick, soft, and luxurious. It's got a very earthy scent and it's not the kind of soap you'd want to use as an aesthetic product (it's not pretty). But if you're looking for something that will make your skin feel clean and smooth, look no further!
It will leave a brown mark wherever it sits, yes it will wash off. To avoid this, get a soap bar holder. Make sure you don't put your clothes on while washing your face.
Keep it out of the shower. If you store it on a ledge that gets wet often, it will melt and get gooey.
I have cystic acne, and while this soap hasn't reduced my breakouts by itself, their frequency has definitely decreased—and there are no new ones! My skin is now smooth, with no blemishes.
The bar itself is pretty massive—I cut small-sized bars off this block as I need them. You could definitely get 4 or 5 regular-size bars out of this. One drawback to this soap is that if you don't store it properly, there might be air pockets that will cause the soap to fall apart (but that's true with any black soap).
Overall though? This is definitely one worth trying out!
6. Dudu Osun African Black Soap
I really like Dudu Osun. It is one of my all-time favorite soaps. It's not abrasive as other brands I have tried, and it has a pleasant clean natural herbal scent.
This soap lathers well on wet skin but doesn't require a lot of water to create suds. It rinses off easily without feeling tight or dry on your skin which makes it perfect for daily use by everyone including those with sensitive skin conditions such as eczema or psoriasis.
I use it in the winter when my face gets drier than usual, and it works well at keeping my skin soft without drying out the areas around my nose or eyes. However, don't apply to freshly shaved legs—it may cause little red bumps on your thighs (not cute).
Despite the color, the lather is white—so if you're worried about staining your clothing like some other black soaps in this list, don't be! The only thing I don't like about this product is that I have to keep it dry after every use or else it will run out faster than a blink
If you buy in bulk, it's only $1.75 per bar—which is pretty incredible considering how long these last.
7. Nubian Heritage African Black Soap
I first discovered this soap when I was shopping at Whole Foods, and I picked up a bar because it looked so pretty and I wanted to try it.
The first thing I noticed about the soap is that it's ergonomically shaped, with rounded corners and a comfortable feel in my hand. It feels good in my hand, but when wet, it gets a little slimy.
It's black, and it's made with oats, aloe, and vitamin E. The soap cleanses and heals your skin, evens out its tone, and doesn't leave any residue behind on your face or body—it just gets all of the dirt out!
It also has a pleasant smell—not too strong or perfume-y like some soaps I've tried before. It's mild enough for those who prefer unscented products.
The texture of this soap is great! The oats in the soap exfoliate my skin so nicely; I can feel them working as I wash myself. It will slough off dead skin cells to reveal fresh new skin beneath and encourage the growth of new skin cells. After using this soap for about two weeks now, my skin is noticeably smoother and softer than before.
The only thing I didn't like about this soap was that it took a long time to get enough lather for me. It comes in 5-ounce bars, which are wrapped in plastic and cost $2.99 each.
African Black Soap Uses & Benefits
Many people use African black soap on their acne-prone skin, but it has many other uses and benefits as well. Look through this list and see if there are benefits that would be useful to you.
Use it for a general skin cleanser.
Use it instead of regular soap for your sensitive skin that can react to the hidden ingredients of regular store-bought bar soap.
Great for soothing the itch and pain from eczema.
Can even out skin discolorations caused by scarring, sunburns, or acne. It contains essential fatty acids that can help the skin to heal.
Calm the full dry, itchy, and flaky patches from psoriasis.
Generally, calm skin that suffers from allergies or stress-related rashes.
Calm down overactive oil glands.
Unclogs pores and keeps them clear.
Gets rid of blackheads.
Will soothe razor burn and bumps caused by shaving.
It will control lousy body odor.
Precautions & Safety Measures
There are certain precautions that you should note when using African black soap. You may need to use your soap in a unique way to avoid irritation or redness.
It's better to use your hands to wash your face, but if you must use a facecloth or loofah, try not to rub too hard.
Lather up with soap and water in your hands rather than wrapping the cloth around the soap bar. Your soap bar will last a lot longer.
Less is more. There is no need to use a lot of soap all at once.
Pat your face with a cloth or towel and never scrub.
Discontinue use if you are experiencing any skin irritation. It could mean that you're allergic to one or more of the ingredients.
Make sure to read the label of your African black soap to ensure that it has few ingredients.
If you're using your soap to heal your skin, it may take several weeks before your skin can fully heal up. Generally, it takes your skin 27 days to regenerate.
Avoid getting soap in your eyes. Rinse immediately if you do.
Before you use the soap, test it on a small patch of your inner wrist.
You can use your black soap up to twice daily.
The Takeaway
I hope this guide helps you find the best black soap for your needs so that you, too, can enjoy radiant skin. If you're looking to try out one of these soaps, we recommend starting with a small amount and working your way up to using it every day.
If you begin experiencing any unusual rashes or irritation while using black soap, stop its use and see your doctor or dermatologist to determine what's causing the problem—and whether it would be safe for you to continue using this product.
Want to share your African black soap experiences with us? We'd love to hear from you! Leave a comment below.