The world of soap is vast and varied. If you are looking for a way to cleanse your skin, you may have heard about charcoal soaps as possible solutions.
Charcoal soap can help remove dirt, oil, and other pollutants from your skin. It also has antibacterial and antifungal properties, which means it can help treat things like psoriasis and eczema.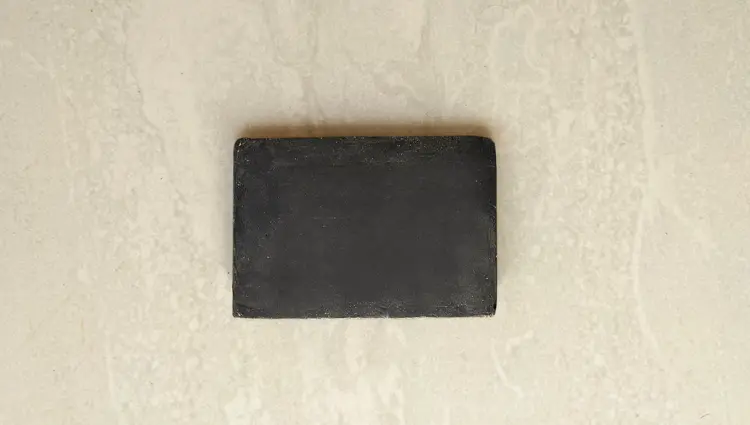 I usually suffer from clogged pores, but sometimes I get cyst-type acne that's extremely painful. My husband and I started using African Black Soap to treat our skin condition, but we kept breaking out so we decided add activated charcoal into our regimen as well—and it worked!
As longtime users of charcoal soap, my husband and I can attest to its effectiveness at cleansing our bodies. However, with so many options on the market today, picking a great soap can be difficult! To help you out, I've compiled this list of my favorite options available today!
1. The Yellow Bird All Natural Activated Charcoal Soap Bar
I bought this bar of soap because it's handmade in the USA and I wanted to support small businesses. I was looking for a traditional, cold-processed soap that would be easy to use and that didn't have any synthetic fragrances.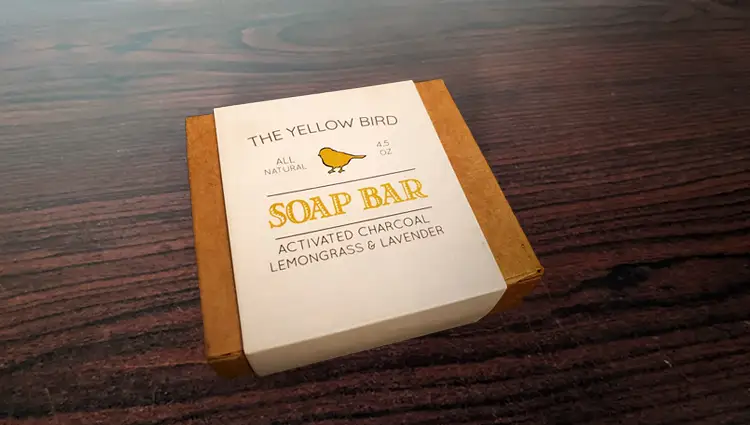 It has a light scent of lemongrass and lavender that was calming and refreshing. The soap has a nice lather and leaves my skin feeling clean without over-drying.
The product works well when used with a loofah, but I recommend cutting the bar in thirds so you have minimal waste. You can do this easily on a cutting board with a sharp knife!
The only thing is that it does leave behind black residue on your shower floor, but if you rinse it off right away then there's no problem! It can also leave a black mark where you place it when wet, so I like to use a bamboo soap holder to keep it off my shower shelves.
I have had cysts on my chin for as long as I can remember, and they were always a source of shame. No matter what I tried, they would not go away.
The first time I used this soap, it felt like sandpaper on my skin. The second time, it felt less grainy and more like a regular soap. After using this product for about 7 months now, my cysts are almost completely gone! It also helps with oil control and blackheads around my nose area— I no longer have to worry about cover-up and foundation!
My pores looked smaller after using this soap for a few weeks; my skin tone appeared more even as well—I would definitely recommend giving it a try if you have oily or acne-prone skin!
This soap is available in both a standard 4.5-ounce size and little 1-ounce minis, making it perfect for travel or packing away in your purse— and the cute little packaging is just one more reason to love this product!
2. Duke Cannon Supply Co. Big Ass Lump of Coal Soap
My husband has been using this soap for years, and I bought it originally as a stocking stuffer. It's one of the best-smelling soaps in their lineup! The scent is subtle but noticeable—it makes your whole bathroom smell good without being too overpowering. My husband and I use it year-round!
I think it smells like earl gray tea (in a good way) with notes of bergamot and black pepper. And definitely more masculine than floral. The activated charcoal acts as a natural absorbent, grabbing oil and dirt to leave you feeling squeaky clean.
My husband has severe rosacea, and he's tried many different things over the years to manage it. This soap has been really helpful—it keeps his skin moisturized without irritating him at all! It kept him feeling fresh and smelling great, even after sweating hard!
I was pleasantly surprised by how well this soap lathers and how little residue is left behind after rinsing. It produces a lot of suds and rinses cleanly without feeling overly drying to my skin.
The only drawback to this soap is that the shape and size make it difficult to hold onto while showering. To solve this problem, I simply cut the bar into several smaller pieces that are easier to grip.
At 10 oz., this bar is 3x bigger than most bars on the market today—which means that you're getting more bang for your buck! And at less than $8 per bar, it's affordable enough that you can stock up without breaking the bank.
I also really appreciate that a portion of the profits benefits US veterans. The fact that this brand gives back makes me want to support them even more, and it makes me feel good knowing that my purchase is helping out those who have served our country.
If you are a fan of their Illegally Cut Pine Bar soap, this one will feel very similar.
3. One With Nature Activated Charcoal Soap with Dead Sea Minerals
I have been using this soap for quite some time now, and I am really happy with it.
The soap is made in Jordan, on the other side of the Dead Sea. The company claims that its activated charcoal is derived from hardwood. But the lather of this soap is not as dark as you might expect from a charcoal-based product, so I feel like it doesn't contain as much active charcoal as other brands.
When I use it, it gives me a smooth feel and leaves no residue on my hands. The scent is masculine but not overpowering, which is fine by me because I'm not a fan of overly-fragranced soaps.
I have sensitive skin, so I was worried that this soap would irritate my skin when used for the first time. However, I didn't have any issues with it at all. In fact, after using this soap for about a week, my skin feels softer than ever!
I struggle with breakouts on the back of my legs and butt area—I think it's because of all the sitting down I do at work—and this has helped so much with those issues.
I love how long the bar lasts, and it makes my skin feel extra clean every time I shower. It doesn't leave any residue on my body, and it rinses off easily.
Overall, this soap has helped me reduce the number of breakouts and even minimize flare-ups under the skin when they do appear (I have acne-prone skin).
The soap is a little thicker than I thought it would be. It's also square, so it can be hard to hold on to in the shower until it melts down some. All in all, this is one of the best soaps I've used in a while—and at only $5 for a 7-ounce bar (or $3 for a 4-ounce bar), it's pretty affordable too!
4. The Grandpa Soap Company Charcoal Bar Soap
I'm a huge fan of The Grandpa Soap Company. Their pine tar soap was one of the first soaps that I tried, and I've been hooked ever since. When I saw this charcoal soap at the store, it caught my attention.
The first thing I noticed about this soap is that it doesn't have a ton of random chemicals in it. Plus, the scent is much better than their pine tar version.
In terms of scent, this soap has an earthy, masculine tone with undertones of mint. The soap bubbles are white, which is a nice change from the black or grey bubbles that other charcoal soaps make when they foam up in your hands. And I noticed that the scent doesn't seem to linger very long after rinsing off—which is great if you're not looking for something too strong.
When I first started using this soap, I was worried that it would be too gritty to use on my face. But after one use, I realized that the grains actually help clean out dirt and toxins without stripping my skin of its natural oils. It was like a deep cleanse for my pores!
I also use this as an underarm detox: just wet your armpits with warm water, rub some soap on them for about thirty seconds, then rinse off completely before drying off with a towel. This will help get rid of any nasty odors or bacteria that may be lurking under there so you can feel fresh all day long!
It works fantastic on teenage acne! My son has been struggling with breakouts lately and we haven't been able to find anything that helps until we tried this soap. He uses it every day now and his skin has cleared up completely.
The only downside is that the bars disintegrate quickly if you expose them to water. If you shower once or twice a day, you'll probably go through this bar pretty fast.
5. Keika Charcoal Black Soap Bar for Troubled Skin
I got a small sample of this soap from a colleague of mine and I've been hooked ever since. The packaging is simple and recyclable, which I appreciate. It's made in the USA and comes in 5-ounce bars that cost $8.99 each.
The soap itself is triple-milled, which means it's not too soft or brittle but just right. It smells like natural oils—but the smell isn't overwhelming if you're sensitive to scents.
The soap lathered well with just a little bit of water, so I was able to get good suds without using too much product—which is important because charcoal products aren't cheap! I cut the soap into four pieces—one for my shower, one by my sink, and two others. This way it will last longer. You can easily slice it with a knife.
The suds are white, and the floor of your shower will probably get a bit gray over time. I just need to wipe it down periodically. But that's the nature of charcoal!
I use it daily and it keeps my skin clear of psoriasis flare-ups. I have sensitive skin that tends to get irritated easily by most soaps, but this one has never bothered me. I noticed that after using this bar of soap, my complexion improved significantly.
I wish it were a bit more moisturizing. I use a light moisturizer afterward, which helps retain my skin's suppleness.
Many women use this soap to whiten their underarms and the area between their thighs. I tried it and within 8-10 applications, my skin was noticeably lighter. I find that it also works great for removing acne from my face.
I like to exfoliate my skin by using a loofah in conjunction with this soap—it leaves my skin feeling soft and smooth. And the best part is that one bar lasts forever! I've had mine for over two months now, and I still haven't finished it off—I use it every day.
6. Bioré Charcoal Pore Penetrating Bar
I've used Biore products in the past, so I was excited to try this one. It's infused with natural charcoal and has jojoba beads for exfoliation. The thing I love most about it is the peppermint scent—it's so refreshing!
It's infused with natural charcoal, so it's perfect for anyone who wants to clean out their pores and remove impurities. The rounded triangle shape makes it easy to hold in your hand while you're lathering up.
It creates a rich lather with minimal effort, rinses off easily, and leaves my skin feeling clean and refreshed. The exfoliating grit is gentle enough to use on sensitive skin—I recommend using it with a buf-puf for best results!
It isn't as drying as some other brands, but it is still a bit drying—be sure to moisturize after using it! My pores are shrinking noticeably since I started using this product every day (and the bacne on my back has totally cleared up), so it's definitely doing something right!
After I wash with it, I follow up with Biore toner, which makes me feel even better. Biore also makes wipes that I use every evening to remove my makeup. Dickinson's witch hazel toner is great, too. Sometimes I use Avarelle acne patches when I have a zit that needs to heal quickly.
I found that it helped clear blackheads on my t-zone, but I wouldn't use it near your eyes because of the peppermint oil. I also used it to cure a rash that I got from poison ivy after camping last weekend.
I recommend using a soap holder that allows water to drain through because it gets soft on the bottom if you don't. The only downside is that the price keeps going up. Last year I paid $6 for this soap and now they're asking $8.00—that's 40% more!
7. Southern Natural Activated Charcoal Soap with Goat Milk
I'm a fan of using goat's milk based soaps, and I'm also a fan of charcoal soaps. So when I found this soap a few months ago, I had to get it.
The packaging was simple—a clear wrap on top and bottom let you see the soap inside. It has a very heavy scent—a combination of eucalyptus and peppermint. The scent is powerful but not overpowering, so it doesn't compete with your perfume or cologne.
The soap itself doesn't foam a lot, but what lathers up feels silky and luxurious on your skin. This soap can leave a black ring on your bathtub. I recommend using it in the shower instead.
I have very sensitive skin, and my eczema tends to flare up when I'm stressed. After using this soap, my skin looks clear again. Remember that it takes time for the bar to work—if your skin feels dry, try using a little vitamin E oil or bio oil.
You should avoid touching the shower curtains when you use this soap because it leaves a messy residue. This one usually lasts me about a month—but after about halfway through, it gets really sticky and gooey.
For the price—$8.99 for 4 oz bars—I wish it was bigger, but I'm not worried since you can cut the soap into smaller pieces to make each bar last longer. You can keep it in a Tupperware container when you travel.
Concluding Thoughts
I hope this list has helped you in finding a good charcoal soap.
However, as much as I emphasize my love for these brands, it's crucial to understand that skincare is a deeply personal experience. What works great for one, might not suit another. It's always beneficial to keep an eye on how your skin reacts to different products.
Finally, integrating charcoal soaps into your skincare routine should be a gradual process. Charcoal's absorptive properties may initially cause dryness, but the skin eventually adapts, leading to healthier, fresher, and more radiant skin. I hope this blog has been instrumental in nudging you towards adopting a natural and effective skincare routine. Here's to glowing, healthy skin and bountiful confidence.