Hello everyone! Today, I am incredibly excited to share with you my personal experience with Beekman 1802 Goat Milk soap. If you're a soap enthusiast like me, always on the lookout for that perfect bar to elevate your bathing experience, then this review is certain to pique your interest. It's not just another soap; it's a luxurious addition to your self-care routine that offers a dash of indulgence.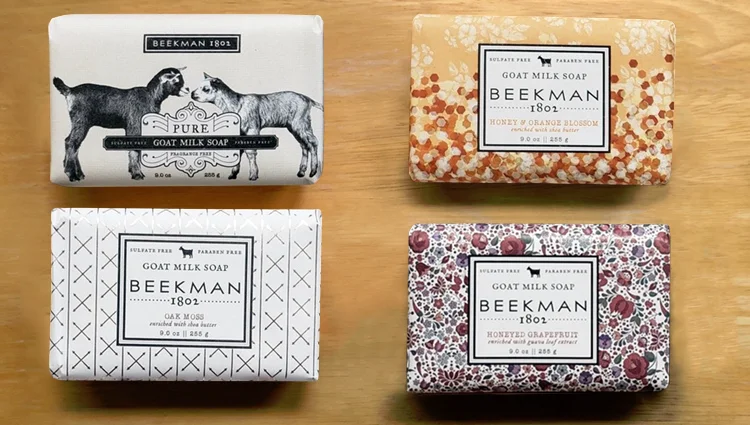 For those unfamiliar with Beekman 1802, this brand is all about reviving the spirit of community that once thrived in small villages. Beekman 1802 creates products with heart, evoking a sense of nostalgia and serenity in our fast-paced, modern lives.
This company first caught my attention on YouTube through the Beekman Boys. Over time, I came to know these engaging men and their cute baby goats, even watching them on QVC. As I discovered more about the company and its support for local artisans, I became more and more drawn to their products. Amidst the plethora of mass production, this brand truly stands out with its authenticity and charm.
Since I discovered Beekman 1802, my family and I have tried an array of their offerings, from shampoos and body lotions to hand creams. However, in this review, we'll be focusing exclusively on their delightful soap lineup. You may be wondering: what's the allure of goat milk soap? The secret lies in its blend of traditional and modern, the rich fatty acids that replenish moisture, and the gentle exfoliation properties of lactic acid. This elixir is an essential part of what makes Beekman 1802 soaps stand out from the rest.
Now, let's delve deep into the details that make this soap worthy of attention. Join me as we explore packaging, ingredients, scents, effectiveness, lifespan, price, and value. We'll discuss the aspects that we love and even the things that could be different. Ready? Let's begin this fragrant journey!
Packaging and Size
I was pleased when the package arrived quickly and with the bar of soap in perfect condition. However, the first thing I noticed upon opening the package was the size of the soap bar. At a whopping 9 oz, these bars are quite large, making them potentially cumbersome to use for those with smaller hands. I found myself dropping the bar frequently due to its size, so I resorted to cutting it into two smaller pieces with a knife.
While I appreciate the generous quantity, I'd prefer the bar to be a little smaller for easier handling. It's worth noting that Beekman 1802 also offers a 3.5 oz version of some scents, available in a 3-pack, which might be more suitable for those who prefer a smaller soap size.
Ingredients
One of the main reasons I love Beekman 1802 soaps is their all-natural ingredients, with goat milk being the star component. Although the percentage of goat milk in the bar soap is not specified on the packaging, knowing that they use in-house goat milk from their farm is a delightful touch. Goat milk is an excellent source of fatty acids, which help to replenish the skin's moisture, and lactic acid, which can gently exfoliate the skin. For a full list of ingredients found in their soaps, you can visit the Beekman 1802 website at this link.
Scent Options
I believe that one of the highlights of the Beekman 1802 soap line is the wide range of scents available. I have had the opportunity to sample a variety of these scents, and I find them all incredibly well-done and pleasing. None of them are too perfumey or overwhelming, and the fragrance doesn't diminish as you use up the soap—it stays just as fresh and vibrant until it's used up.
Below, let's dive into my favorite picks – listed according to my preference, obviously!
1. Vanilla Absolute
This is hands-down my favorite fragrance in the Beekman range. It has a pleasant aroma, reminiscent of a milky vanilla scent that delicately lingers on the skin. It's not like the ice cream-scented vanilla we commonly know, but more of an earthy mix, combining warm vanilla and a hint of sandalwood.
After my showers, the lovely scent would fill my bathroom, and I found that it was not overpowering to the more sensitive noses in my family. Trust me, these soap bars can be perfect to add to your gift baskets!
2. Pure Goat Milk (Fragrance-Free)
Although labelled as unscented, this soap does have a mild, somewhat buttery aroma. Nevertheless, it is gentle to the nose and won't interfere with your cologne or perfume. It is ideal for people sensitive to scents and chemicals, offering the least noticeable fragrance in the lineup.
3. Honey & Orange Blossom
This one offers a perfect blend of being fragrant yet subtle. While I found the orange blossom aroma to be not as potent as I'd prefer, the strong and rich honey scent more than makes up for it.
Even though their Honey & Orange Blossom whipped body cream has a delicious scent, this soap doesn't exactly smell the same way.
4. Honey & Oats
The unique scent of this soap is incredible! It's neither too feminine nor overly masculine, but rather a clean and uplifting fragrance that lasts for a long time.
The slightly rough texture from the bits of oats adds a gentle yet effective exfoliating quality to this soap, which I adored. It's relaxing and sets a perfect mood for starting the day on a good note.
5. Fresh Air
I discovered this scent at a hotel and was struck by how lovely it smelled. As soon as I got home, I ordered some for myself.
According to the description, it features subtle notes of green citrus and spring leaves. However, I found it to be a bit more citrusy than I expected. Even so, it's quite refreshing, crisp, and perfect for those seeking a mild and fresh feminine scent.
6. Ylang Ylang & Tuberose
Fans of Ylang Ylang will enjoy the blend with tuberose, resulting in a subtle and lovely floral scent. The combination tempers the potential overpowering quality of Ylang Ylang, offering a sophisticated fragrance. It truly makes you feel (and smell) refreshed and clean all day long.
7. Honeyed Grapefruit
I was initially expecting a stronger grapefruit or citrus aroma from this soap. However, its fragrance comes across as more neutral and, in fact, I couldn't discern any grapefruit at all. That said, I still quite enjoyed the soap and found it highly refreshing during the hot weather.
8. Fig Leaf
This one was somewhat unassuming. I purchased this soap primarily because I love the scent of Beekman's Fig Leaf lotion. However, this particular bar of soap failed to deliver that same heavenly aroma I was expecting. The fragrance was okay—a bit fruity and sweet, but with an undertone of woodiness that faded too quickly.
9. Lavender
Regretfully, this soap left me feeling underwhelmed due to its practically non-existent scent. Among all the scents, this one had the least noticeable fragrance.
There are other scents I have yet to try, like Apricot & Honey Tea, Sunshine Lemon, Davesforth, Heirloom Violet, and Arcadia, among others. I'm looking forward to sampling these when I can finally get my hands on them. No doubt I will update my review when I do!
Effectiveness
Undoubtedly, the effectiveness of the Beekman 1802 soap goes far beyond marketing slogans. I can confidently attest to the fact that it truly lives up to its claims of being moisturizing. I have noticed a distinct difference in my skin's texture — it feels softer and more supple. I believe it's the lactic acid in the soap that's making all the difference.
The soap does a wonderful job at cleansing without leaving your skin feeling stripped of its natural oils. Unlike many other soaps, a single application of this product lathers generously, covering large areas without having to be reapplied. When used with my nylon scrubber in the shower, I find that it creates lavish creamy lather which yields ample suds for an entire body wash in just one session.
In terms of alleviating skin conditions, the soap has greatly assisted in reducing my eczema symptoms and has also not triggered any irritation for my psoriasis. Additionally, this soap remarkably reduces the need for additional moisturizing products like lotions, thus saving time, money, and effort. It's a truly soothing experience, akin to a mini-spa break.
Interestingly, the soap is also gentle enough for children. My kids' skin has become accustomed to hypoallergenic soaps, but this one didn't cause any problems at all—I'd say that it's a boon for even highly sensitive skin types!
In terms of after-effects, my bathroom smells divine no matter what fragrance I choose. Plus, I notice less soap scum residue making clean up a breeze.
Lifespan
When it comes to the lifespan of Beekman 1802 soaps, I can confidently vouch for their remarkable longevity. An important aspect to understand here is that all their soaps are triple-milled. This intensive manufacturing process is what contributes to an enriched and condensed soap bar, ensuring its lasting quality. Not only do each of their bars significantly outlive the typical, less expensive goat milk soaps, they are also about 2-3 times larger and denser than your standard bar soap.
In my own experience, I've found a single bar can easily last close to two months if you're showering once a day. Even during those summer months, when showers are more frequent due to the heat, a single bar can endure daily double showers for about a month, sometimes even longer. One useful tip I've found to make the bar last even longer is to lather it up using a washcloth or a loofah.
A notable characteristic is that irrespective of the usage, the bar manages to maintain its consistency and never turns soft or mushy like some soaps tend to do after a certain period. A little tip that helped me maximize the bar's lifespan, I towel-dry it with a fresh, clean washcloth post-shower.
Price and Value
Now, let's discuss the financial aspect of it. While receiving my shipment earlier than anticipated was a delightful surprise, I had shelled out $16 for their 9oz bar. On top of that, there are additional shipping costs to consider. However, I found that their website does offer a subscribe and save option, providing an appreciable 15% discount.
Given the soap's luxurious quality and longer lifespan, I believe the price is fairly reasonable considering the bar's generous proportions. That said, like many, I wouldn't mind if it were a tad cheaper. Another thing to note is that the soap can be utilized all the way through until the very last piece which adds to the product's value.
If you're like me and always on the lookout for a good bargain, you'd be pleased to know that in my exploration, I discovered that Beekman 1802 products are sometimes available at discount stores like Marshalls, T.J. Maxx, and Ross—and they're often selling at heavily reduced prices.
Final Thoughts
In conclusion, Beekman 1802 Goat Milk soap has earned a special place in my beauty routine. Not only is it made in the USA and supports local artisans, but it also delivers on its promise of moisturizing and gentle cleansing. Although the bars are quite large and can be challenging for those with small hands, their impressive lifespan and luxurious feel make them an excellent value. With a variety of captivating scents to choose from, this soap can transform any bathroom into a more enjoyable, welcoming space.
Adding to its many charms, these soaps can make excellent gifts that show thoughtfulness and care. Whether it's a stocking stuffer or an addition to a guest basket, Beekman 1802 goat milk soaps are perfect for winning hearts and noses, leaving recipients feeling appreciated and pampered.
Despite a few hiccups along the way, it's safe to say that these soaps are definitely worth a shot. After all, as the age-old adage goes, 'Soap is to the body, what laughter is to the soul.' So why not indulge a little and gift yourself a bar of happiness today!