As a self-proclaimed soap enthusiast, I couldn't wait to share my experience with Dr. Squatch's Pine Tar soap. My husband and I have been ardent fans of their products for quite some time now, and I recently decided to give their Pine Tar soap a try.
For those who are unfamiliar with Dr. Squatch, they're recognized for their artisanal soap aimed at men who prefer a rugged and natural approach to their personal care routine. Their unique branding, eye-catching packaging, and entertaining commercials have always impressed me, and I was eager to see if their Pine Tar soap would live up to the hype.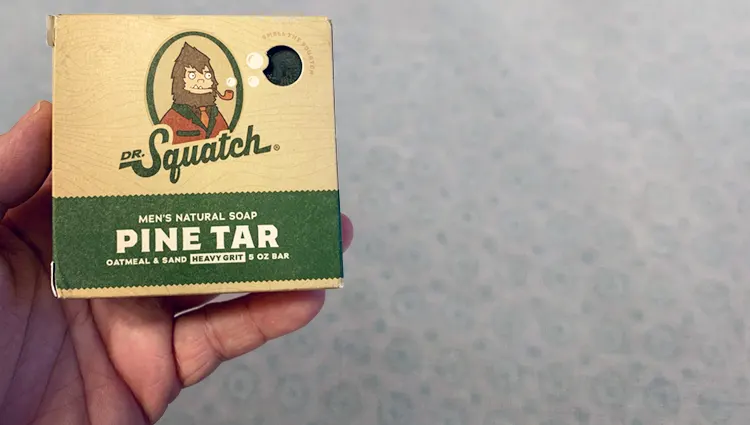 After using an entire bar of this soap, I believe I have enough insight to provide a comprehensive review. In the following sections, I will be discussing various aspects of the Dr. Squatch Pine Tar soap, from its scent and texture to its overall performance. So, buckle up and join me on this soapy adventure as I share my thoughts on this intriguing product.
My Review of Dr. Squatch Pine Tar Soap
To make it easier for you to decide if this soap is right for you, I've rated it according to the following categories.
Packaging
I purchased the 3-pack version of the soap, and I must say, the packaging is quite appealing. The soap comes wrapped in a simple, recyclable brown paperboard box with the brand's logo and product information printed on it.
The soap is black in color and has a rough texture, giving it an earthy, natural look. The delightful scent of the soap easily fills the air, even before removing it from the box. I appreciate that there is no plastic packaging involved. This environmentally conscious choice means that all the packaging can be easily recycled, leaving no waste in a landfill.
My husband, who has used this soap before, pointed out a change in the packaging. The old bars used to have a white label or band around them, but the new ones don't have these white labels. Nonetheless, the overall aesthetic appeal of the packaging remains high, and the ease of use is not compromised.
Scent
The Dr. Squatch Pine Tar soap has an amazing scent that reminds me of pine trees. It's my husband's favorite aroma and I can definitely understand why. The fragrance is incredibly masculine, making it feel like our bathroom has been transformed into a lush, damp forest where you can breathe in the freshness of the wilderness.
What's great about this soap is that the scent isn't too strong, and it becomes unnoticeable once you step out of the bath or shower. However, when used in combination with Pine Tar deodorant or Woodland Pine cologne from the same brand, I find that the soap's fragrance lasts quite well.
In my personal experience, the scent holds up well even against sweat and hard work. Additionally, I can't help but appreciate how our bathroom smells so fresh and clean after using this soap.
Cleansing Power
It lathers up quite nicely and quickly, allowing for an effortless glide across my skin. The thick, black suds might be surprising at first, but they do an excellent job in removing dirt, oil, and sweat. The soap is particularly great for exfoliating during the winter months when my skin tends to become dry and itchy.
One thing to note is that the soap contains oatmeal bits that act as exfoliants. While this works well for removing dead skin, it might feel a bit harsh for those with sensitive skin. In my experience, one side of the soap had harder oats, which felt like being scratched with fingernails, while the other side was smoother, which I appreciated.
As for the soap's appearance, be prepared for black suds, as the soap is quite dark. This can cause a bit of a mess in the shower, with the soap melting in the holder and leaving streaks on the walls. I found that I had to be diligent with daily shower cleaning to keep everything looking tidy. Despite this minor drawback, the soap's cleansing power is undeniable and makes my skin soft without drying it out.
Size and Lifespan
The soap bar is quite decent in size, measuring approximately 3″ x 3″ x 1″ and weighing around 5 oz. Since it's hand-crafted, there might be slight variations in size and weight, but overall, it's a good size for daily use.
I noticed that the soap bar lasts for about a week to a week and a half at most, which isn't as long as I had hoped. The soap tends to dissolve rather quickly, and as it gets smaller, it becomes more prone to breaking apart into unusable pieces. This made it a bit difficult to use towards the end of its life.
If you want to get the most out of your Dr. Squatch soap, read this article on how to preserve it properly.
In terms of value, I think it would be great if the soap bar lasted a bit longer. I also wish they offered a liquid body wash version in the same scent, as that might provide better longevity.
Brand Reputation
I was particularly impressed with their marketing strategy which has positioned them as a unique player in the men's grooming industry. They aim to revolutionize the way men approach their personal hygiene by providing a humorous perspective—thanks to cleverly shot commercials and attention-grabbing viral videos on YouTube.
What I particularly value is their transparency. They openly share the ingredients used in their products, providing a full list on their website along with explanations of their benefits and reasons for being chosen.
I also admire Dr. Squatch's commitment to minimizing their environmental impact. Their use of sustainable ingredients and packaging materials, as well as their efforts to reduce waste by offering products in recyclable packaging, aligns with my own eco-friendly values.
When I checked online, I found that they have a strong online presence and have received numerous positive reviews from satisfied customers. They have a very active social media presence and are active on Facebook, Instagram, and YouTube. The company has been around since 2013, so they're definitely not new to the soap game.
Price and Value
In my opinion, the Dr. Squatch is a bit pricier than conventional soap brands, with a single bar costing around $8-10. This might make it challenging for some people to buy it regularly. However, there are a few ways to save money on this soap.
Firstly, you can consider purchasing multi-packs, which are available in packs of 1, 2, 3, 6, and 9 bars. Sometimes, their website offers great deals on these multi-packs, allowing you to save a few bucks.
Another option is to take advantage of the brand's bulk discounts or subscribe to their regular delivery service. By subscribing, you can save up to 25% on your purchase. This makes the soap more affordable and could be a thoughtful gift for your husband or boyfriend.
That being said, I do feel the soap is somewhat overpriced for its longevity. The chart above compares the price of Dr. Squatch's Pine Tar soap to other pine tar soaps currently on the market. As you can see, Dr. Squatch's pine tar soap is more expensive than other brands like Duke Cannon and The Grandpa Soap Co. Additionally, I've noticed that there are other homemade-style soap bars available in the market that are not only considerably cheaper but also last longer.
Pros & Cons
REASONS TO BUY
Made from natural ingredients

Contains oatmeal and sand, which act as mild exfoliants

Environmentally responsible

A masculine and woodsy scent

Contains shea butter and other natural oils to moisturize the skin

Offers subscription services and bulk discounts
REASONS TO AVOID
Relatively expensive compared to conventional soap brands

The soap doesn't last as long as I would like it to

Oatmeal and sand may be too rough for some people with sensitive skin

The soap has caused some black stains to appear on the shower wall
Overall Rating
Overall, I think the Pine Tar soap from Dr. Squatch is an appealing product worth trying out. Not only does the packaging look appealing, but it also delivers on its promises.
The unique and invigorating scent is a standout feature, making it one of the best pine tar soaps I've come across and a top choice among the company's offerings.
The soap's cleansing power is effective, and I appreciate that it's made from natural ingredients, ensuring it's gentle on my skin. However, I must admit that the price point is not ideal for everyday use.
Good
Here is my personal evaluation of Dr. Squatch's strengths and weaknesses. I rated it on a scale from 1 to 10, with 10 being the highest score possible in each category:
While I appreciate the overall quality of the soap, I believe there's room for improvement in terms of value and user experience. That being said, I would still recommend giving Dr. Squatch's Pine Tar soap a try if you're searching for something different and invigorating to add to your shower routine.
Ingredients Information
Olive Oil
Palm Oil
Coconut Oil
Shea Butter
Orange Essential Oil
Pine Fragrance
Pine Tar
Oatmeal
Sand
Activated Charcoal
Kaolin Clay
Sea Salt
Other Options to Consider
Duke Cannon Supply Co. Pine Tar