So, you're a guy. And you don't like to smell like flowers, or your girlfriend's ex-boyfriend, or whatever other weird stuff is on the market these days. You just want something simple and effective, right?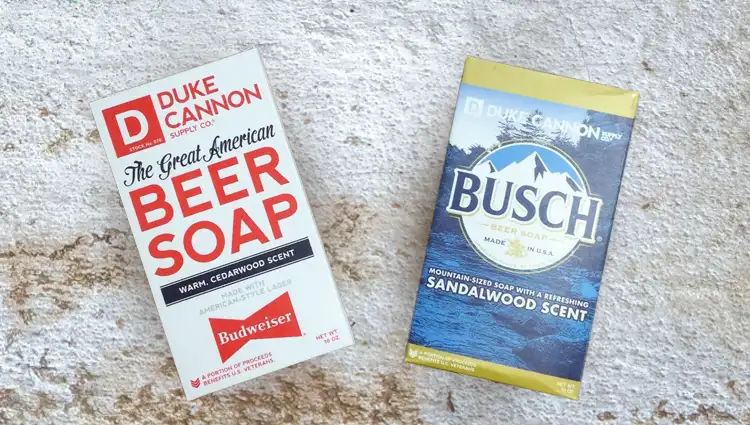 That's where Duke Cannon and Dr. Squatch come in: two specialized soaps for men that are made with natural ingredients and smell great without any harmful chemicals.
I decided to try both brands and see which one I liked best. There are several differences between the two and each one has a different feel, smell, and longevity. Let's take a look at those differences and decide which brand you should buy.
Texture and Lather
Both lather well and have rich lathers that cleans and rinses nicely. Neither left a residue on my skin, which is important for a good bar soap. They both also provide exfoliation, but Dr. Squatch's is a bit more strong than Duke Cannon's.
Dr. Squatch soaps come in four varieties based on exfoliation levels: Zero Grit, Light Grit, Medium Grit, and Heavy Grit. If you have sensitive skin or just want some extra scrubbing power when you wash your face or body, this might be the brand for you!
Both Dr. Squatch and Duke Cannon are triple-milled, which gives them a luxurious feel against the skin. One thing that does stand out to me about Duke Cannon is how clean it leaves my skin feeling; it doesn't feel as dry as other soaps do after use. Dr. Squatch also leaves my skin feeling hydrated without being greasy or oily.
Both of these soaps are free of ingredients like parabens and sulfates (which is a huge plus in my book), but Dr. Squatch has more natural ingredients than Duke Cannon does (according to their websites).
Scent Collections
While both brands have a lot to offer, Duke Cannon is the clear winner when it comes to scent options and staying power.
Duke Cannon has 25 scents currently available—and we're sure that's going to grow!
Basic Ass Pumpkin Spice Latte
Busch Beer
Buck Naked (Unscented)
Big Texas Beer
Big Ass Brick of Soap, Jr.
Big Ol' Brick of Hunting
The Great American Beer
Busch Beer
Victory (Limited Edition WWII-era)
Accomplishment (Limited Edition WWII-era)
Productivity (Limited Edition WWII-era)
Naval Diplomacy (Limited Edition WWII-era)
Campfire
Fresh Cut Pine
Leaf and Leather
Midnight Swim
Gun Smoke
Bay Rum
Big American Bourbon (Buffalo Trace)
Frothy The Beer Man
Illegally Cut Pine
Rudolph's Much-Deserved Night Cap
Oops! All Brandy Homemade Eggnog
Mall Santa's Cough Syrup
Big Ass Lump of Coal
They also make much larger bars than Dr. Squatch does (the ones we tested were around ten ounces each), so you'll get more bang for your buck if you buy from them instead.
The two scents that I enjoy the most are:
Buffalo Trace – This soap has an earthy scent with hints of wood and leather. It reminds me of the woods in the fall when all the leaves are falling down. This is my favorite scent as it reminds me of being out on a hike or camping trip in the wilderness.
Accomplishment – This soap has a citrusy bergamot scent that smells like the perfect cologne! It reminds me of being at a spa where they use essential oils to relax you after a long day's work. It also smells like fresh laundry!
Dr. Squatch has around 22 scents currently available with new collections added from time to time.
Werewolf Wash
Bricc of the Dead
Summer Citrus
Pine Tar
Coconut Castaway
Bay Rum
Cool Fresh Aloe
Alpine Sage
Fresh Falls
Wood Barrel Bourbon (Stagecoach Edition)
Cold Brew Cleanse
Gold Moss
Birchwood Breeze
Spearmint Basil
Eucalyptus Greek Yogurt
Grapefruit IPA
The Batman Bricc
The Riddler Enigma
Star Wars Collection
The Mandalorian Bundle
The Jurassic Park Collection
The smell is usually the same strength throughout the life of the bar, which is great, but it lacks when it comes to lasting power. Also, while they do have some interesting scents like "Frosty Peppermint" and "Bay Rum," we wish there were more options in the way of unique scents like you'll find at Duke Cannon.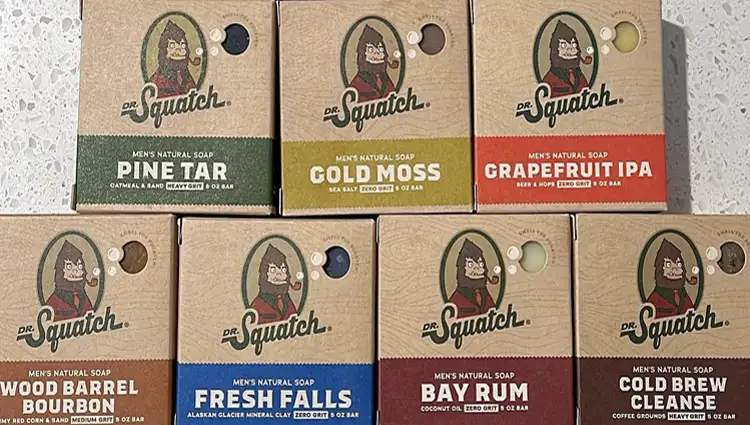 However, Dr. Squatch smells stronger than Duke Cannon. If you like your soap to smell stronger than normal then this might be something you want to consider when deciding which one is best for you!
Comparison Chart
To see the major differences between Duke Cannon and Dr. Squatch, have a look at our comparison table below:
| Key Features | Duke Cannon | Dr. Squatch |
| --- | --- | --- |
| Fragrances Available | 25+ | 22+ |
| Scent Longevity | Upto 24 hrs | Upto 18 hrs |
| Average Lifespan | 1 month | 2-3 weeks |
| Price | $9.00 | $8.00 |
| Exfoliation Levels | Medium | Zero, Light, Medium, and Heavy |
| Ingredients | Not Entirely Natural | Entirely Natural |
| Bar Size | 10 oz | 5 oz |
| Shelf Life | 24 months | 24 months |
Longevity of Bars
If you're looking for a bar soap that will last, Dr. Squatch may not be the best choice.
I've found that I get about a week's worth of showers out of a Dr. Squatch bar, which is pretty short compared to other soaps. One way to combat this is to use a cloth or loofah, which will help you get more use out of each bar.
The big difference is that Duke Cannon's bars are much larger than Dr. Squatch's, which makes them better suited for guys who like to take long showers or want to use the same bar for several weeks at a time without having to worry about running out of soap quickly.
The soap lasted about an entire month with daily showering for me, which means it lasted much longer than Dr. Squatch bars would have even if they weren't cut in half.
Price Comparison
Duke Cannon definitely has the edge when it comes to price. Their 10 oz bars sell for $9 while Dr. Squatch charges $8 per 5 oz bar. But if you're looking for a bargain, Dr. Squatch is always offering 15-30% off discount codes so that their per-ounce cost is comparable.
Both brands offer customers the opportunity to sign up for a subscription service—which means you'll get a new bar of soap every month without having to worry about remembering when it's time to buy again!
Next, let's talk about reward points! At Duke Cannon, you earn exclusive rewards points for every time you shop there so if you're someone who likes shopping online then this could be a great way for you to save some money down the road!
As far as shipping goes, both companies offer free shipping on orders over $50 so if you need something quickly then neither company will disappoint you!
Sustainability, Commitment, and Packaging
Dr. Squatch soap is made in the USA and is of 98% natural origin. Duke Cannon soap is also made in the USA but they do not list their ingredients online, so it's hard to know if it's as natural as Dr. Squatch's soap. Both products are free of parabens and phthalates.
Both companies are committed to giving back to the community in some way or another, but only one of them includes veterans in their giving program! Duke Cannon donates a small percentage of profits to veteran groups; Dr. Squatch has no such program. If you're looking for a soap that supports our brave military heroes, Duke Cannon is the way to go!
Both products are cruelty-free and never tested on animals, making them an environmentally conscious choice.
Dr. Squatch has excellent customer service, and if you don't like your order for any reason, they'll refund your order in full or send you new scents of your choice at no additional cost to you!
Both soaps come packaged in attractive boxes with fun graphics on them. Both companies seem to make seasonal soaps that are only available for a limited time.
Which Soap is Better for Men
If you're looking for a bar soap that will help you get clean and smell good, then you can't go wrong with either Duke Cannon or Dr. Squatch. Dr. Squatch is all-natural, so if you have allergies or want to avoid chemicals in your soap products, this is the brand for you.
But if you're looking for a good bar soap in general—and especially if you're looking for something that lasts a long time—Duke Cannon is your best bet. This bar will last longer than Dr. Squatch and has a better scent that will stick around longer too. This makes it ideal for people who work outdoors or do tough manual labor where they sweat a lot (such as construction workers). It is cheaper, lasts longer, and has a better overall scent and size for your money.
The choice is up to you, but we hope this has helped you narrow down your options.