I recently discovered the increasingly popular Caprina Fresh Goat's Milk soap and decided to give it a try. I heard that goat milk is rich in both saturated and unsaturated fats, which had me intrigued. Saturated fats are known to boost a soap's lather, while unsaturated fats provide moisturizing and nourishing properties. This soap caught my attention because it is made with fresh goat's milk and is said to be excellent for various skin problems. I decided to dive in and try their Original formula, and I'm eager to share my review with you.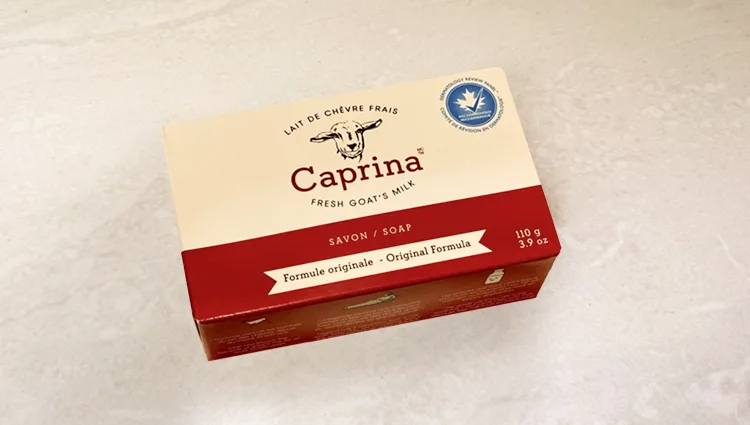 Packaging and Size
Each soap bar is packed individually, though the plain box could use a bit of aesthetic enhancement. The soap itself, a fair shade of white, is rounded with no sharp edges that could mess with your delicate skin. The hardness of the bar ensures that it doesn't disintegrate quickly or get used up too soon.
A little smaller than the average bar, their 3.9 oz bars are just the right size. If you're looking for something bigger, they do offer a 5 oz version as well. Defined by traditional saponification, these soaps hail right from Canada and what's great is that you have several pack options to choose from.
Ingredients
The primary fat source in these soaps is obviously goat's milk – a key element that gives the product its unique texture and quality. However, it's good to be mindful that goat's milk may only constitute a small part of the soap in a processed form.
Although I wouldn't categorize it as an all-natural soap because of its synthetic ingredients, it's still a great fit for those who have sensitive skin, rosacea, and allergies to fragrances, dyes, and parabens.
Scent Options
One other thing that sets this soap apart is its soothing and mild scent. It's not your typical strong fruity, floral, or woody fragrance most commercial soaps have. It possesses a wholesome aroma that is just, well, clean. It's unique and quite pleasant because it reminds me of the classic Vinolia British soap from the old days.
You'd be surprised how raw and fresh the soap smells. I've received plenty of compliments on more than one occasion when people notice the scent. I even have a little hack—I leave the soap in my dresser drawers to have the clothes smell just as fresh. However, don't expect the scent to linger too long on your skin after you get out of the shower. It's subtle enough to cleanse and refresh without overpowering your senses.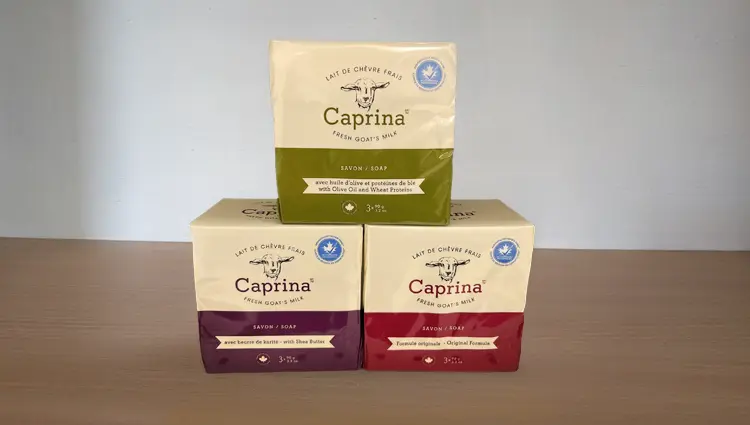 But that's not all. The soap also comes in a delightful variety of other scents apart from the Original formula if you want to spice things up. Offerings include scents like Eucalyptus Mint, Lavender—perfect if you want to relax and unwind after a stressful day. Shea Butter for when you want an extra hydrating experience and Olive Oil & Wheat Proteins for an added nutrition boost for your skin. Not to mention, there's an Unscented version as well for those of you who prefer a fragrance-free purification. So there's something for everyone with this brand!
Effectiveness
As someone who constantly struggles with finding the perfect soap for my sensitive and troublesome skin, I must say that Caprina goat milk soap has been a game changer for me. From the very first use, I could tell that this soap was something special. It is incredibly comfortable to use on both my body and face, and it rinses off easily without leaving any residue or that annoying tight feeling on the skin.
One of the major benefits I've seen since incorporating this soap into my daily routine is a significant reduction in redness on my face. My skin is naturally prone to inflammation, and finding a gentle yet effective cleanser has always been a challenge. With this soap, my face feels clean and refreshed without any sign of irritation.
Speaking of effectiveness, this soap has also been helpful in combating my occasional acne breakouts. While it doesn't produce a lot of creamy suds, it's certainly powerful enough to cleanse my skin thoroughly, keeping breakouts at bay.
Perhaps the most impressive aspect of this soap is how incredibly moisturizing it is. I have always dealt with dry, itchy and cracking skin on my hands, but this soap has kept those issues in check. After using it, my skin feels hydrated and smooth without the need for copious amounts of moisturizer. Additionally, it doesn't leave a greasy residue in the bathtub, which is a common issue I've experienced with other goat milk-based soaps. My children have also fallen in love with this soap, and I take comfort in knowing that their delicate skin is well-cared for with this gentle yet effective formula.
Lifespan
The soap is French milled, which gives it a solid and lasting texture, contributing to an extended lifespan. In my personal experience, it took a little over 2 months to use up a bar of this soap. To ensure that the soap lasts as long as possible, I have been using a wooden soap holder in our shower, which allows it to air-dry between uses.
The soap doesn't become mushy or disintegrate like some other bar soaps do. I also make sure to position the soap out of distance from running shower water to prevent unnecessary wear. All in all, the French milled texture and proper care make it a great value, lasting longer than most of the bar soaps I've tried in the past.
Price and Value
As someone who values quality over quantity, I have to say that the Caprina goat milk soap offers great value for the price. For a 5 oz bar, I spent around $7.00, which I think is quite reasonable given the numerous skin benefits it provides. Not to mention the fact that this soap lasts considerably longer than your usual brands, generating further savings for your pocketbook over time. Plus, I no longer needed to lather myself with moisturizers after every shower. I even started sending this soap as gifts to friends and family, who also loved it.
Besides the 5 oz size, the Original formula is also available in a smaller 3.9 oz version, and in various pack sizes. I personally liked buying multi-packs as they tend to provide better value per bar. Moreover, I never wanted to run out of this soothing soap! In addition to the bar soap, Caprina is available in a liquid hand soap version that includes a pump for convenient use. Talking about how I use them, I like to take the bar version along for travel and keep the liquid form as my companion in the home bathroom.
That being said, the biggest downside of this soap is its limited availability in regular stores in the USA. It can be easily addressed by ordering online or stocking up whenever possible.
Conclusion
In summary, Caprina Fresh Goat's Milk soap has been an absolute game-changer for my skin. Its effectiveness in handling various skin concerns while being gentle and moisturizing makes it a complete package. The soap's lifespan and value make the slightly higher price tag well worth it. I plan to continue using this soap and would highly recommend it to anyone looking to improve their skincare routine.
With its fantastic scent options, Caprina soap can be enjoyed by anyone, irrespective of their preferences. It truly offers something to everyone. The only downside might be the difficulty of finding it in regular stores. However, I believe that its numerous benefits and overall value outweigh any inconveniences faced in obtaining it. This wonderful soap has won a permanent place in my skincare routine, and I have no doubt that you too will fall in love with it as I have. So go ahead and give it a try – your skin will thank you!