Life comes with its share of aging-related quirks. As we age, the body undergoes natural variances – some more noticeable than others. Particularly, a distinct scent is often attributed to growing older, casually referred to as "old people smell." After some research, I found out that this odor is due to a chemical compound called nonenal that our bodies produce as we grow older. Nonenal, originating from the oxidation of unsaturated fatty acids on our skin, has an unusual greasy or grassy scent that's challenging to get rid of due to its non-water-soluble nature.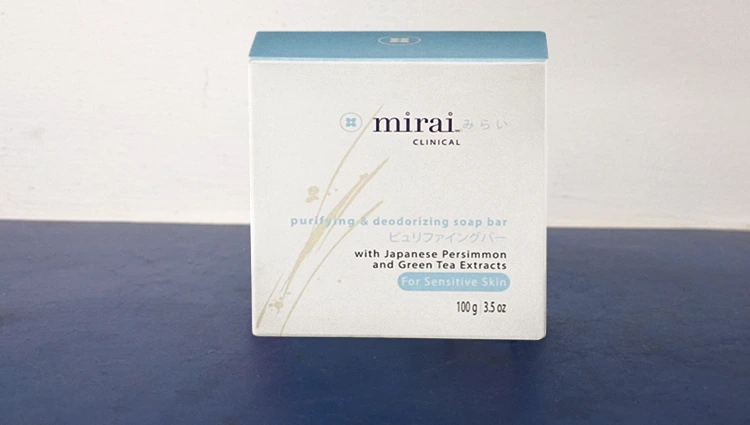 One potential solution I came across in my search to mitigate this age-related odor is a line of products from Mirai Clinical, a Japanese company. Their promise of Persimmon extracts, known for their high tannin content and potent deodorizing capabilities, intrigued me. Consequently, I decided to try their deodorizing soap bar, and here's my unbiased take on it.
Packaging
On first impressions, the soap arrived in a neat box, presenting a simple, yet appealing, design. The soap itself was quite substantial – a large, thick, circular lump that fit snugly into my hand. With a translucent, persimmon-colored hue, its aesthetics were as pleasing as its attributes. What I particularly loved was that it had no additional ingredients that could potentially irritate or dry out the skin, making it well-suited for any skin type, whether mature, oily, combination, dry, or sensitive.
The complete list of ingredients includes:
Helianthus Annuus (Sunflower) Seed Oil
Cocos Nucifera (Coconut) Oil
Sodium Hydroxide
Elaeis Guineensis (Palm) Fruit Oil
Carthamus Tinctorius (Safflower) Seed Oil
Saccharomyces/Persimmon Fruit Juice Ferment Extract
Citrus Aurantium Dulcis (Orange) Peel Oil
Camellia Sinensis (Green Tea) Seed Oil
Camellia Sinensis (Green Tea) Leaf Extract
Tocopherol, Mica (Colorant)
Titanium Dioxide
Iron Oxide, Salvia Sclarea (Clary Sage) Oil
Rosmarinus Officinalis (Rosemary) Leaf Extract.
Water
Lather and Scent
This soap froths up into a wonderfully rich lather, invoking a sense of luxury and decadence. As for the smell, it's refreshingly mild with a soft, natural aroma. Although no distinct fragrance stands out, a vague citrusy scent is present which fades swiftly. As someone who prefers her products fragrance-free, this light scent doesn't feel intrusive. However, to really notice it, you would likely have to bring the soap bar up close to your nose!
Cleansing Power and Effectiveness
Moving beyond the surface, the soap boasts commendable cleansing properties. After a wash, there is no slippery residue, yet it surprisingly avoids leaving the skin dry. Pair it with an exfoliating washcloth and you'll feel like you're fresh out of a spa. It is not drying; in fact, it seems to aid in preserving the body's natural moisture, a bonus for those worried about their skin health. Despite its powerful cleansing features, the soap is gentle and thus suitable even for those with hypersensitive skin.
Notably, I found that the soap had a significant impact on reducing the unpleasant nonenal odor, a feat that most conventional soaps failed to accomplish. The inclusion of antioxidant-rich Japanese green tea, coupled with persimmon extract, also keeps you smelling fresher longer. I've even used it on my hair and found that it rinses away comfortably, leaving both skin and hair feeling smooth and clean.
Brand Reputation
The soap is a product from Mirai Clinical, a Japanese cosmetics company, which means 'future' in native tongue. Directed by Koko Hayashi, this female-founded, minority-owned small enterprise has quickly made a name for itself. In fact, they'd even made it to "Shark Tank" in 2019!
Most reviews online speak favorably of the brand and considering my positive experience, it seems to live up to its reputation. I find it admirable that they uphold ethical standards – their products are cruelty-free, not tested on animals, and naturally, gluten-free.
The pH level of the deodorizing soap stands at 10.2, while their sensitive skin soap sits at 9.9, contributing to their skin-friendly formulations.
Size and Lifespan
The Mirai Clinical deodorizing soap comes in two forms: a lighter 0.70 oz version which is essentially a sample size and a full-size version of 3.52 oz. The smaller soap is a practical starter kit – ideal for around 3 to 4 washes. After that, if you're satisfied, you could opt for the full-sized soap.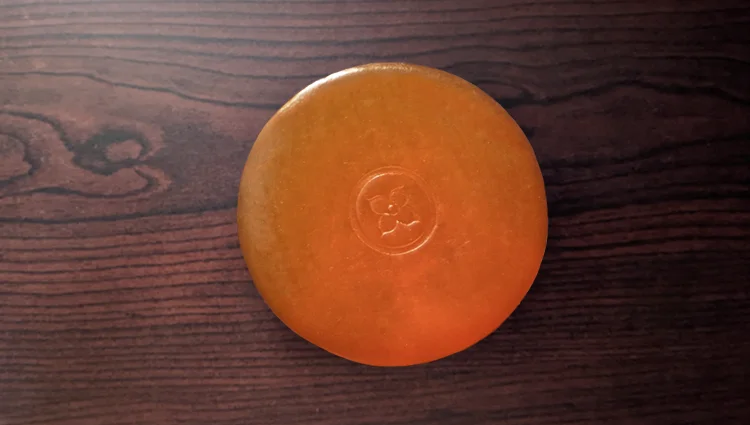 The larger bar, despite being full size, doesn't compromise on travel readiness. It's perfect for packing and bringing along on your getaways, promising to last a good while even with daily use. I was also taken aback by its longevity – it seems to promise a lifespan of roughly a month, maybe even more.
However, I must point out that the soap dissolves rather quickly and can thicken into a gel-like consistency if left in water. To avoid wasting its precious contents, it would be best to keep it dry when not in use.
Price and Value
The pricing might initially raise eyebrows, as the 3.52 oz bar retails at approximately $19, and the 0.70 oz version at around $6. For some, including myself, the price for this size appears steep. They offer a subscription model that could alleviate some concerns. A free shipping offer is also provided, but only for orders over $50.
It's wonderful to encounter a product that executes its intended purpose flawlessly, as this one seems to do. But I must admit that I've had to arrange a little extra budgeting, because I simply can't afford to go without it.
For those left slightly cringing at the price tag, there happens to be an alternative in the market named Kappaku, offering a similar composition at a much lower cost. The catch? It usually takes a couple of weeks to arrive since it's shipped directly from Japan.
Pros & Cons
Let's bullet out the specific pros and cons for an at-a-glance summary.
REASONS TO BUY
Efficient at deodorizing

Helps with the body's natural moisture

Suitable for all skin types

Long-lasting if stored properly
REASONS TO AVOID
Higher than average pricing

The fragrance is very minimal
Overall Rating
Taking all aspects into account, from its subtly natural aroma to its effectiveness in removing Nonenal, I would give the Mirai Clinical Deodorizing Soap a solid 4.5 out of 5. It does lose points for its price and water-sensitivity, but its pros far outweigh these cons. This soap is a wonderful product, offering a touch of luxury with each use and delivering results that it promises. For those grappling with the odor often associated with aging, I wholeheartedly recommend giving this soap a try!