When you're looking to buy a soap made especially for men, there are lots of choices available. Dr. Squatch, Pre de Provence—there's no shortage of brands vying for your dollars!
But the one that's really caught my eye lately is Duke Cannon. They last longer than Dr. Squatch—which means that you get more bang for your buck!
Duke Cannon gives back 5% of its profits to veterans organizations, making it an even more attractive brand for guys who love American history and patriotism.
I'm a scent expert, so I use my nose to help me decide what I like. My husband is also pretty particular about how his skin feels after he cleans up, so we both have our own rankings of the scents in the Duke Cannon lineup.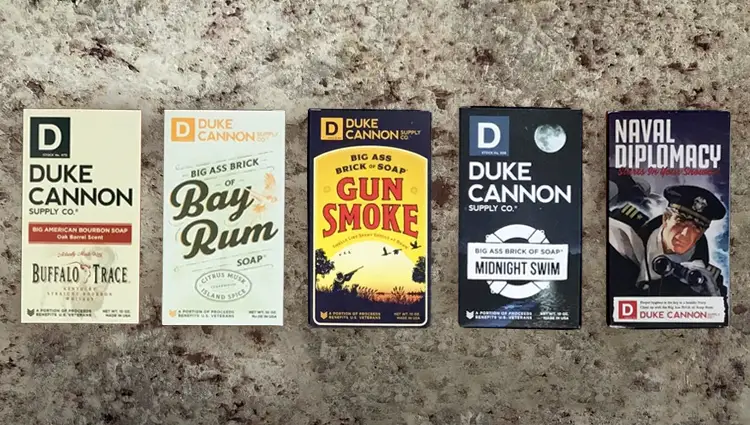 This list is just mine, but if you have a favorite scent that isn't on here… make sure to let me know!
1. Leaf and Leather
This soap has such a deep, rich scent that you feel like you're sitting in your grandfather's study, surrounded by leather-bound books and the smell of tobacco from his pipe. It's the perfect soap for men who are a little rough around the edges and love to get their hands dirty.
My husband loves the scent, too—he thinks it reminds him of his grandfather's tobacco farm in Virginia. It reminds me of an old baseball glove —the kind that's been sitting on your shelf for years, and you can still smell the leather.
I have sensitive skin, but so far I've had no reactions to the fragrances. The bars are huge—they're slippery and hard to hold when wet. I recommend cutting them in half lengthwise or using a loofah instead of putting them directly on your body.
All in all, though, I highly recommend "Leaf and Leather" as a great option for anyone looking for handmade soap that cleans well without drying out your skin or leaving behind any residue—and who doesn't want their bathroom smelling like tobacco (especially if you live with someone else)?
2. Naval Diplomacy
It's perfect for the man in your life who loves to be active, especially if he's a Navy fan!
It smells like a clean, refreshing ocean breeze. It's perfect for my husband, who loves the ocean and always wanted to be a sailor when he was a kid. The artwork on the soap reminds me of those old-timey sailors who used to sail around in their boats!
The navy blue color is also very attractive, and the soap has a great lather that leaves my skin feeling clean without being too harsh.
It removes excessive oil thoroughly without resulting in dryness—so your skin will feel fresh and clean without feeling stripped of all moisture—and it leaves just enough of a scent to keep you feeling fresh all day, but not so much that you smell like Irish Spring, the go-to soap for any child still under their parent's roof.
But be warned: if you drop it on your foot when it's brand new, the pain can be quite severe.
When I first got my hands on the Buffalo Trace soap, I was in awe of its scent! The scent of oak barrel and southern-aged Bourbon made me feel like I was transported to Kentucky—and it smelled amazing!
It cleans your skin nicely without drying it out too much; it has a nice lingering smell that makes your bathroom smell amazing, and it's not overpowering at all—just pleasant enough to enjoy while taking a shower or bath.
What I like most about Duke Cannon is their new scrubbing pouch, which comes with a rope for hanging—so you can let your soaps dry before packing them away. This means that I'm not constantly having to deal with a wet soapy pouch on my travels; instead, it dries nicely without leaving behind any soap residue. It also makes the soap easier to pack, which is always a plus.
4. Fresh Cut Pine
Duke Cannon has two pine scents: illegally cut pine and fresh-cut pine. The illegally cut pine is a lighter scent, while the fresh-cut pine is heavier and earthier.
The earthy notes in this soap make it seem like you've just come back from cutting firewood, and the smell of sap lingers on your skin. It is no surprise that many fans of Duke Cannon soaps prefer this one—it has a nice soft aroma and lasts for a decent amount of time before fading away.
If you're looking for a stronger pine scent, then I recommend trying Grandpa Soap Company's pine tar soap—it has a more intense aroma than Duke Cannon's.
So if you love the outdoors and want to bring some of that fresh-cut pine smell into your home without chopping down trees yourself, this is a great choice!
5. Midnight Swim
It has a great smell, and the scent lasts for about an hour before fading into something that's still kind of nice, but not as strong. The scent is very masculine—it's reminiscent of the ocean or some kind of manly cologne. The best way I can describe it is that this soap reminds me of Axe Phoenix bodyspray but better.
The soap rinses off easily and leaves my skin feeling soft and clean. It also has just enough moisture to keep your skin from feeling dry and tight after you shower, which is important because I'm not a fan of that feeling.
Plus, it's refreshing and perfect for any adventure you're taking (or daydreaming about). Combine this with their Tactical Scrubber, and you're sure to have the best day ever!
Seriously! If you want something that smells like a cool breeze off the sea or just want to feel like you can conquer anything, then this is the soap for you.
6. Accomplishment
This bad boy is made with a scent of bergamot and black pepper. It's got a very subtle smell and rinses clean, but it makes you feel like you just sat down at an old-fashioned bar to enjoy some expensive whiskey.
This soap does not leave much of a scent on you after you get out of the shower, so it's great if you want to wear perfume or cologne without competing with your soap's scent. It also doesn't dry out your skin and leaves your skin feeling soft and moisturized after using it.
With bits of buckwheat in it for exfoliating and a texture that's good for grip, this soap will give you an experience like no other while still being gentle on your skin. You can also use it with a loofah to exfoliate as well if desired! The texture is good for grip but not so much that it feels uncomfortable when rubbing across sensitive areas.
The lather created by this soap is so intense that it can turn your washcloth black. We recommend using a dark-colored cloth to avoid staining.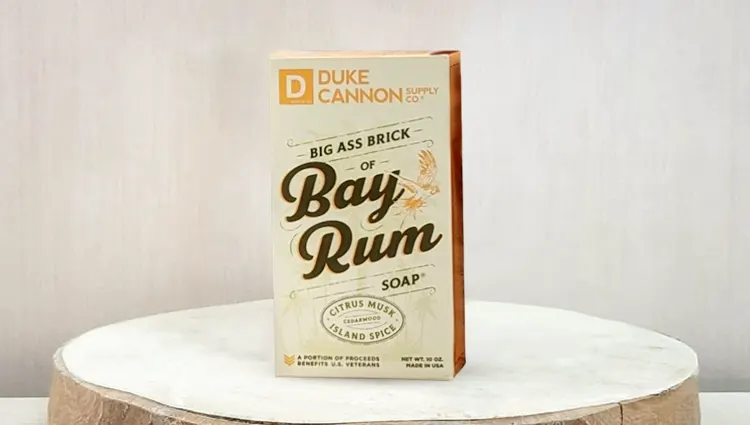 7. Bay Rum
This is one of the most authentic bay rum scents out there, and it's a great option for anyone who loves that classic barbershop smell. It lathers up moderately well, and it smells just like what old school barbershop smell used to be like: woody, sweet—a little spicy too!
It's also exfoliating without being harsh on your skin, which means it'll get rid of dirt but won't leave your pores feeling raw or irritated.
This is a much better version of Bay Rum than Dr. Squatch's offering, which is still a good soap, but this one has more depth to it.
It's a Big Ass Brick of Soap! That means it will last twice as long as an ordinary bar!
8. Campfire
When I was a kid, I loved going camping with my family. My favorite part was sitting around the campfire and roasting marshmallows. So when I found out that Duke Cannon had released their campfire scent as a soap in their line, I had to try it out for myself.
And let me tell you, this soap is perfect for those who love bonfires as much as I do!
The scent is pretty subtle—it doesn't clash with any other scents in your bathroom or shower either—so no matter what else you're using (like shampoo or body wash), you'll still be able to smell this fresh scent on yourself after showering!
I've been using the same bar of soap for over two months and still haven't used it up, so you know it lasts a long time.
9. Gunsmoke
The name of the product, Gunsmoke, is actually perfect for the scent—it's smoky and musky and just a little bit exotic. It's manly and strong, and it has an element of danger to it.
The smell sticks to you after showering, which is great if you want to smell nice without wearing cologne or perfume every day. I love using this soap in my bathroom because it smells like an air freshener!
The lather is very light, so don't expect this soap to foam up like a shampoo commercial—but that's okay because the soap does an excellent job of removing dirt and grime from your skin.
Unless you're looking for a war-zone odor, the experience will be rewarding and enjoyable.
How to Get the Most Out of Your Duke Cannon Soap
Now that you've got your new Duke Cannon soap, the real fun begins. We'll show you how to get the most out of your new best friend so that you can keep it around for as long as possible.
The lifespan of a soap varies greatly depending on how we use it—and Duke Cannon is no exception.
First things first: make sure you're using the right tools. If you've got a loofah or a washcloth, great! Use it. But if not, we recommend picking up their Tactical Scrubber— it's the only thing you need to reach maximum hygiene levels in a tactical situation. It's also great for camping or hiking since it won't take up too much room in your pack.
Next, try using a SoapStandle—a stand that attaches to the soap and creates a platform for all the water to drain off. This keeps it dry—so it doesn't get mushy or fall apart as quickly.
Finally: if you find that your bar of soap doesn't last as long as it should, try cutting the bar in half or into three chunks using a heated knife. This is an easy way to ensure ample lather—while making sure you don't run out too soon!
Our Final Thoughts
I have to admit that it was hard to narrow down this list to just nine items, but I think I made some pretty solid choices. If you're looking for a gift for someone who loves Duke Cannon, or if you're just looking to try something new yourself, then any one of these is a great choice!
I love these soaps because they're great value—each one is only $9 for a 10 oz bar. They're made in the USA, they last a long time, and they smell great.
If you want to try Duke Cannon yourself, just head over to Walmart or Target and pick up a bar of your favorite scent (or two). You can also find them at Fleet Farm, Scheels, Walgreens, and CVS stores across the country.