Astringents and skin toners have been in existence for nearly two centuries. Witch hazel extract-based toners are mainly known for their skin tightening, lightening, soothing, and moisturizing effects.
However, the old formula of these toners was loaded with a high amount of ethanol alcohol. It regularly received negative remarks for causing skin dry-out, irritation, and inflammation.
Times changed. Technology improved, and with it, the formulation of pharmaceutical skin toners also improved a lot. The first massive wave of change was brought to us by a company called Thayers.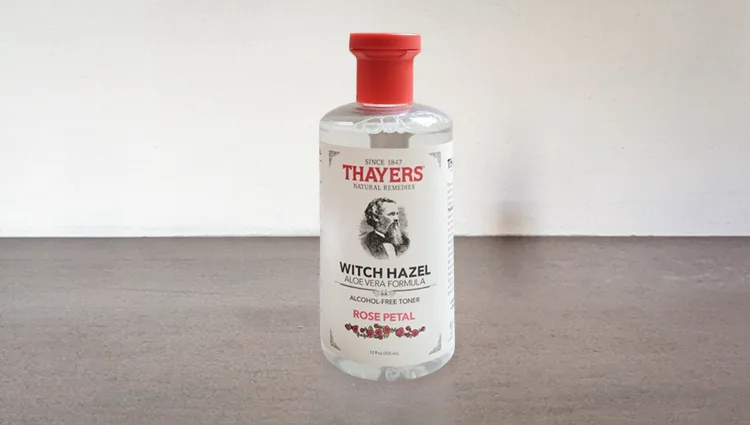 They mastered the technique of making alcohol-free, paraben-free skin toners that are highly effective yet very gentle on sensitive skin.
I don't know when and how, but all of a sudden, Thayers Alcohol-free Rose Petal Witch Hazel toner took the internet by storm. People started going crazy about it. And you know the power and reach of social media. It takes only a few minutes for something to go viral. The same happened with this product.
Everyone was using it, including my co-workers, friends, and cousins. Seeing the immense popularity, I was also tempted to check this out. It was inexpensive too. So I went ahead and bought it.
Want to know what all the hype is about? Is the product as good as people are claiming or just another internet fad? You will get answers to all your questions by the end of this article, I hope.
Before I discuss the features in detail, let me give you a quick overview of this product first.
Thayers Alcohol-free Rose Petal Witch Hazel Toner – Overview
This skin toner from Thayers is free of alcohol and harsh chemicals like paraben and propylene glycol. It is a gentler formula that contains natural ingredients like undistilled witch hazel extract, aloe vera, and rose-petal water.
It has a sweet and soothing scent of rose. It is also enriched with Vitamin C to boost collagen production, remove free radicals and restore the natural glow of your skin.
The core ingredient of this toner is witch hazel. It is considered to be a natural astringent. It is derived from a flowering plant called Hamamelis Virginiana.
Erin Gilbert, director of Gilbert Dermatology in Brooklyn, New York, says that cosmetic-grade witch hazel extract is derived mainly from the leaves and barks of the plant. He also says, "…it has several skin benefits including being soothing, acting as an anti-inflammatory, and having antioxidant properties."
Thayer's witch hazel toner works like a charm on menopausal acne. It removes excess oil from the skin, thus solving multiple oily skin-related problems like pimples, blemishes, blackheads, and whiteheads.
About the acne-clearing property of witch hazel, Joshua Zeichner, the director of cosmetic and clinical research at Mount Sinai Hospital comments, "It's commonly used as a means of removing excess oil from the skin so that it can be especially useful in people struggling with acne."
However, for the very same reason, witch hazel can dry your skin very quickly. So to counter the drying effect of witch hazel, Thayers uses aloe vera, which hydrates the skin by locking in the essential moisture.
The natural oil present in rose-petal stimulates the skin pores, leaving behind a smooth and refreshing feeling.
Key Ingredients:
Undistilled witch hazel extract.
Purified water.
Aloe Barbadensis leaf juice.
Vitamin-C extract.
Natural rose fragrance.
Glycerin.
Rosa Centifolia (Rose) flower water.
Citric acid.
Citrus Grandis (Grapefruit) seed extract.
How Does Thayers Witch Hazel Toner Work?
To cleanse the skin pores and control sebum (skin oil) production, most witch hazel brands use alcohol. They distill the witch hazel extract using 14%-15% denatured ethanol alcohol. 14%-15% of alcohol is not a joke.
Studies have shown that applying an even lower amount of alcohol can cause severe skin irritation, dryness, and inflammation. If you have allergic and acne-prone hypersensitive skin, an alcohol-based toner will do more harm than good.
What makes Thayers Rose Petal Witch Hazel toner stand out is the absence of alcohol. To make the concentrated witch hazel water, Thayers only use purified water. This concentration also contains tannins and polyphenols.
Witch hazel gets its potent astringent properties from tannins. It can remove excess oil from your skin and also control sebum production. Applying this toner topically will help you get rid of greasiness, acne, blemishes, and all the other oily skin-related problems.
In addition to this, it also contains polyphenols and methyl gallate ester that strengthen our skin cells and reduce free radical production. By doing this, it makes your skin look firmer, tighter, younger-looking, and glowing.
To combat the signs of aging, the formula also includes Vit-C extract that promotes collagen production. Vit-C is a free radical scavenger that slows down your skin's aging process.
Both witch hazel and aloe vera extract have excellent anti-inflammatory properties. I guess this is the reason why many are saying that this toner releases a calming and cooling effect on their skin. It surely does help to eliminate itchiness, redness, and inflammation.
Top 6 Benefits of Thayers Witch Hazel Toner
Here are some of the benefits of Thayer's witch hazel toner:
1. Fights Acne
Acne is a chronic skin inflammatory disease. Therefore, to reduce acne, the first thing you need to do is minimize skin irritation. The combination of witch hazel extract, rose-petal water, and aloe vera guards your skin against inflammation and redness.
The excellent astringent properties of witch hazel help to tighten skin pores to give you instant relief from itching, redness, and burning sensation, says Los-Angeles based dermatologist Tsippora Shainhouse, MD.
There are two other ways in which Thayers skin toner combats acne problems.
One, by soaking up the excess oil. Clogged pores and excess sebum production trigger acne breakout. Witch hazel, being an astringent, removes the excess oil from your skin by shrinking the pores.
Two, by stopping the growth of acne-causing bacteria. Excess sebum production promotes the growth of P. acnes bacteria, one of the main culprits behind acne and pimples.
According to Debra Jaliman, MD, the author of Skin Rules, tannins present in witch hazel have antimicrobial properties. That's how it reduces bacteria growth on the skin's surface.
2. Minimizes the Signs of Aging
Loss of skin elasticity and wrinkles are two of the most prominent signs of aging. The Vitamin-C in Thayers toner formula increases collagen synthesis and boosts the level of hyaluronic acid. This, in turn, rejuvenates the skin cells and makes your skin firmer and healthier.
I am not claiming that applying this toner would reverse aging. That's pretty much impossible. But it can slow down the process and give you younger-looking skin.
3. Prevents Skin Damage
Tannins and polyphenols- two natural plant compounds found in witch hazel are high in antioxidants. Thus, it can minimize the severity of melanoma by inhibiting the proliferation of melanoma cells.
A few animal studies found that witch-hazel can neutralize harmful free radicals and control the spread of skin cancer cells. It can also minimize the skin damage caused by UV radiation, dirt, pollution, and contaminants.
A few drops of Thayers witch hazel toner create a protective barrier against damage-inducing substances. The combination of aloe vera and witch hazel acts as a sunburn remedy due to its amazing cooling effect.
However, all of these experiments were conducted on animals. Researchers aren't sure whether humans will benefit the same way.
4. Reduces Puffiness Under the Eyes
I don't usually recommend skin toners for use under and around the eyes due to the high alcohol content. However, this blend is alcohol-free, so I can safely use it around my eyes to reduce undereye bags and puffiness. But there's one crucial thing to remember:
A natural astringent like this will be effective only if the cause of puffiness is fluid retention under the eyes. If it is the collateral damage of natural aging, I'm afraid it won't work much.
5. Cures Insect Bites
Some users have reported getting relief from bug bites and insect bites by applying this toner. This could be true as we already know that both witch hazel and aloe vera reserve anti-inflammatory and anti-microbial properties.
6. Works As a Cleanser and Make-up Remover
Since it is a water-soluble toner, I often use it as a skin cleanser. It is gentle, doesn't hurt my super sensitive skin, and leaves my face feeling clean and smooth afterward. I also use it as a make-up remover for light make-up.
I don't have to pull my skin too hard to get the job done. However, it cannot and should not be used for removing heavy, long-lasting makeup. The formula is not strong enough for this.
All these look pretty good in theory. From acne-fighting to preventing cellular damage – people regard it as a one-stop solution for all underlying skin problems. However, all these benefits are chiefly anecdotal. A lot of studies and research are yet to be done.
So far, all the studies are implying that it can be an excellent short-term remedy for generic skin ailments. It is not a long-term solution for severe skin conditions. So, if you are expecting this toner to make all your skin problems go away in a snap, that's not going to happen.
My Experience with Thayers Witch Hazel Toner
My acne breakout problem has tortured me all my life. I started using this toner with the hope that it will remove the many red acne on my face. I am writing this review after four weeks of using it.
Truth be told, I didn't notice any difference in the first week. I was using it as a cleanser so that my other skin-care essentials (i.e., moisturizer, night cream) can get easily absorbed by my skin.
During week 2, my skin felt less oily. While I am not sure about this, my roommate complimented me, saying that my face was glowing.
Week 3, I, too, noticed the glow this time. It felt great. The acne shrunk a little, and the redness also faded to some extent.
Week 4 hasn't been strikingly different from week 3. However, the best part is that my skin hasn't got any new breakouts in the last four weeks. I count it as a success. It also didn't trigger severe itching and burning sensations like all the alcohol-based toners I used previously.
To sum up, it doesn't show its effects overnight. You will have to wait patiently to get results. It didn't trouble my sensitive, allergy-prone skin. It didn't make me gain new breakouts, either. I feel more confident about my appearance, and that's what matters. I will definitely keep using it.
How to Use Thayers Witch Hazel Toner
Always test a new skincare product on a small part of your face or wrist before dabbing it all over your face.
If it doesn't cause allergies or breakouts, follow the next steps:
Wash your face with water and pat it dry with a towel.
Soak a cotton ball with the toner.
Dab it on your face and neck.
If you are going to use a moisturizer after this, make sure to let the toner dry completely.
Use it once or twice daily. Don't overuse it in a larger quantity for quicker results. Otherwise, your skin will be too dry.
Possible Side Effects
Nothing is 100% safe for everyone. Even though most adults don't experience significant side effects, some do. It is important to remember that everyone's skin reacts differently to these skin-care products.
While I got my money's worth and experienced no new acne breakouts, I know that many didn't get lucky. That's why I always stress the importance of patch testing.
If you have severe perfume allergy, then this might not be a suitable option for you. Although the manufacturer says that it uses only natural fragrances, I am not 100% sure about this.
What I Loved About It:
Unlike alcohol-based toners, it doesn't dry out the skin.
Ideal for oily and combination skin.
Cleans dirt, grime, and light make-up gently from your skin.
Slowly and gradually reduces the size of acne.
Reduces skin redness and gives instant relief from itchiness.
Restores the health and glow of your skin.
Affordable.
What I Didn't Like About It:
Although I don't have perfume allergy, I would have preferred this product unscented.
May trigger rashes and breakouts if you have extremely sensitive skin.
The Bottom Line
Having said that, I too have sensitive skin, yet I didn't have breakouts in these four weeks. As I said, everyone's skin reacts differently to skin-care products. If you are still unsure, you can give your dermatologist a call before buying this product.
I'd say it is a much better alternative to the heavy alcohol-based, chemical-loaded toners I've used since my teenage. The overall effect is pleasing, which makes this toner a good value for money.