Hello, fellow mint lovers! Chewing gums are something I hold dear, especially those containing Xylitol. This is not just due to its delightful taste but because it works magic in our mouths! Imagine creating a hostile environment in your mouth where only the good bacteria can survive, and the harmful ones are totally finished off. This is the power of Xylitol and the primary reason why it's been my sugar substitute of choice.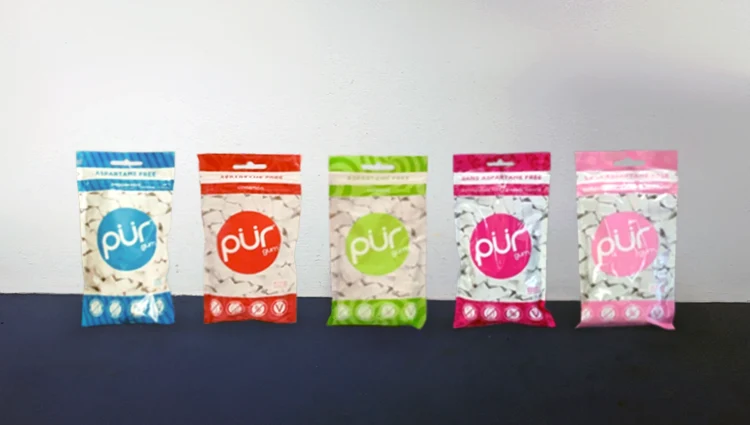 One of my go-to brands when it comes to Xylitol gum is PUR. This review will focus on why I love PUR Gum, how it curbs my sweet tooth cravings while offering some dental benefits, and gives an insight into my personal experience with the product.
My Review of PÜR Chewing Gum
In order to help you find out whether this chewing gum is right for you, I've rated it according to the following categories.
Packaging and Size
The packaging is thoughtfully designed so it's not oversized for the amount of gum it houses. What I also love is the resealable Ziploc style bag that it comes in, affording the perfect storage solution whether in your pantry or a desk drawer. Grabbing a piece of gum is convenient too, because you don't have to wrestle with any paper or foil wrappers that typically encase the gums. In addition, I sometimes transfer my PUR gums from the original container into a smaller flip-top one for quick access.
Also, the packaging stands up to heat, making it a constant companion for those road trips without having to bother about the gums turning into a sticky mess.
The gums themselves are charming little morsels – they remind me of Chiclets; small, rectangular, and glossy. However, they're noticeably smaller than those produced by other companies. As for me, I do feel the need to pop at least 2 pieces into my mouth to get that satisfying chew. It's a small quirk but something worth noting. As for the quantity, each bag comes with 55-58 pieces. Rest assured, you'll never get less than 55 pieces in a bag.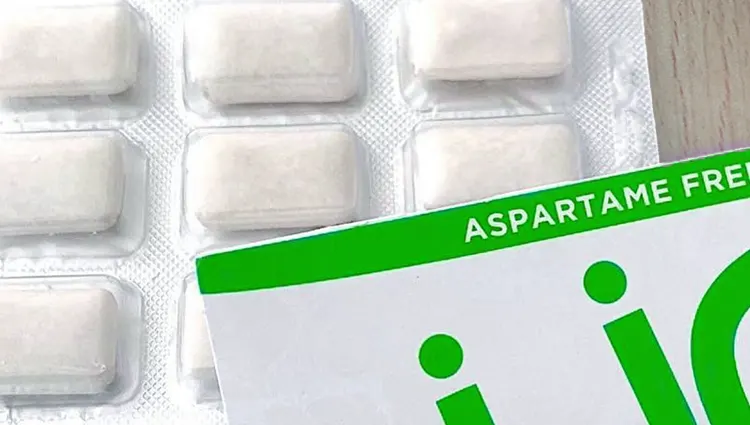 They also offer their gum in Blister Trays—which are great for keeping your chewing gum fresh and crispy. But if you tend to chew a lot of gums, I recommend the bag version.
Ingredients
Okay, now let's talk about what goes inside the gum. PUR gum is sweetened with Xylitol, and not just any Xylitol – it's derived from sustainably grown birch and beech trees in Europe. Compared to gums from brands like Trident or Orbit, which often include sorbitol (a substance that could potentially cause a bit of gastric distress), PUR proves to be a healthier choice.
You won't find sugar, sucralose, or other additives that raise our eyebrows in PUR gum. And rest assured, there's no aspartame or robust laxatives to worry about. PUR sticks to clean, natural, and non-GMO ingredients, making it a fantastic option for health-conscious gum lovers.
Calorie Content
Moving on to the calorie count. Each piece of PUR gum contains 1 gram of xylitol. Two pieces is the serving size, so each serving has 2 grams of xylitol and only 5 calories. So, not only can you savour that sweet taste without feeling guilty, but it also fits in nicely with most dietary restrictions. The fact that it is vegan, gluten-free, peanut-free, soy-free, and diabetic-friendly is a huge bonus. Even though I don't have these dietary restrictions personally, I appreciate that PUR Gum has taken the time to make their product inclusive, ensuring as many people as possible can enjoy it.
My Journey Through the Flavor Choices
With eight distinct flavors to choose from, PÜR offers an adventure for all taste buds. In this section, I'll dive into details about my experience trying out each flavor, ranking them from my most to least favorite.
1. Cinnamon
Cinnamon wins the gold medal in my personal ranking of PUR flavors. Unlike the standard cinnamon gums, PUR's version has a slightly natural flavor profile. It reminds me of biting into a Red Hot candy – a burst of sweetness with a lingering burn, albeit not as intense as something like Big Red gum.
The flavor does fade quickly, within a matter of seconds, but it's not gone for good. A mild cinnamon taste lingers for a couple of minutes, leaving a pleasant, warming aftertaste. I found that even after spitting the gum out, the flavor remained pleasantly in my mouth for a while. The earthiness, together with the fact that it doesn't adhere to dental fillings, makes it a clear winner.
Aside from the taste, I appreciate that cinnamon is a natural anti-bacterial agent, which adds to the gum's allure. As a former fan of SPRY cinnamon gum, I was happy to find a suitable, burn-inducing replacement. But beware: the cinnamon kick could irritate those with sensitive mouths or chapped lips.
2. Bubblegum
Next in line, we have the delightfully nostalgic bubblegum flavor that takes me on a sweet trip down memory lane. With its sweet yet subtle taste, it reminds me of snagging a piece of Double Bubble at the store with my friends. The flavor does dissipate within a few minutes, but the memories it conjures more than make up for its fleeting nature.
My husband loves it too, making it his go-to choice. The gum's sweetness is gentle, never cloying or sickening. The sharpness adds a delightful edge, setting it apart from the syrupy bubblegum of yore—no unpleasant aftertaste here.
Also, you'll be delighted to know that this gum does make decent bubbles! Two or three pieces were more than enough for me to blow bubbles, an impressive feat considering it's a xylitol-based gum. For those looking for a Trident Bubblegum alternative, this xylitol gum is sure to please.
3. Spearmint
Spearmint comes in third place, offering a revitalizing and refreshing taste. It's the second strongest in PUR's minty collection, trailing behind Wintergreen. It brings that oh-so-satisfying cooling sensation that opens up the sinuses and makes every breath feel like a crisp mountain breeze.
Lasting longer than their Bubblegum flavor, spearmint impressed me with its longevity. I used to be a fan of Wrigley's Spearmint, but their formula contains sugar and aspartame, making PUR Spearmint a healthier option. The gum effectively freshens your breath, making it perfect after a meal.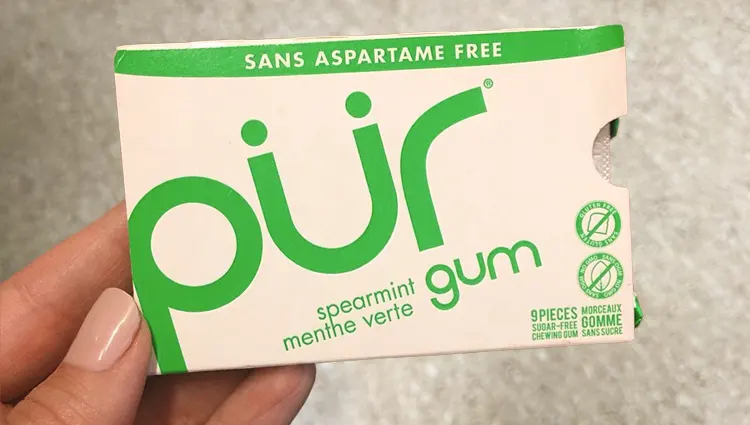 4. Peppermint
As the name suggests, the Peppermint flavor stays true to its promise. It delivers a refreshing and powerful punch of mintiness that isn't sickly sweet, which some other brands tend to fall into. An added bonus is the lingering hint of mint after the flavor subsides.
This gum works wonders after a heavy or spicy meal, and it's been particularly helpful when I have to wear a face mask for extended periods – the peppermint sensation helps me breathe easier. But if you aren't a big fan of peppermint, you may not enjoy it as much as I do.
5. Chocolate Mint
If you're anything like me and often crave a taste of the decadent cocoa goodness, you might want to take a shot at the Chocolate Mint. Contrary to what I expected, the chocolate doesn't taste artificial or overly sweet. The taste is reminiscent of a York Peppermint Pattie, with a lovely coolness added to it.
The gum remains soft and pliable for an extended period, even as the chocolate notes wane and mint takes precedence. As a former chewer of Extra Mint Chocolate gum, I couldn't find a perfect replica in PUR's version, but it came close. Overall, this gum is an excellent choice for chocolate lovers who want to mix it up a bit.
6. Wintergreen
Wintergreen takes the sixth spot on my list. Unfortunately, this gum did not deliver a strong and authentic wintergreen flavor. It had more of a regular minty taste with a faint wintergreen hint, making for a somewhat disappointing experience. Interestingly, some people have mentioned that PUR's Coolmint flavor tasted more like Wintergreen, leading me to think that there might have been a mix-up.
While it can freshen breath after eating garlic or onions, Wintergreen may not be the best choice if you have a sensitive mouth. The strong minty flavor can be irritating—especially if you're not a fan. Should you be a genuine wintergreen aficionado, opt for PUR's Coolmint flavor instead.
7. Pomegranate Mint
In the number seven spot is Pomegranate Mint. Unfortunately, I heard excellent things about it, but it was one of the weakest in PUR's lineup. It vanished incredibly quickly, leaving me displeased. The taste didn't seem authentic either; it felt more like green tea than pomegranate, and it smelled similar as well. The flavor did freshen my breath, which was a positive aspect.
Though not my go-to choice, Pomegranate Mint provides a fruity change of pace from more mint-centric versions on occasion. I wish PUR would offer more fruit-only flavors for kids (such as green apple or watermelon), but it's commendable that they've ventured into a flavor like Pomegranate Mint, which is quite unique.
8. Coolmint
Bringing up the rear in my ranking is Coolmint—an unspectacular contender that didn't blow me away. If you're seeking Wintergreen or Wrigley's Winterfresh, you'll find those flavors echoed in this gum. The Coolmint didn't impress me much with its mild taste that disappeared all too quickly – roughly about just ten seconds – making it the most fleeting of all PUR's offerings.
After about two minutes, there was really no point in holding onto it. It retained a subdued refreshed sensation but was lacking a distinctive cooling effect. The inconsistency in flavor and longevity made it the least favorable in my list.
In conclusion, PUR has a lot to offer. Though some flavors are superior to others, the whole experience is generally pleasant and worth trying.
Price and Value
Now let's talk about the price of PUR Gum. I must say, it's a little pricier than the average supermarket gums that you see at the checkout aisle. However, I am quite fond of the size of the pack – each pack costs around $3.50, and given that I consume around two pieces per day, it lasts me for about a good month. I'd say the value for money is reasonable given the quality and benefits of the gum.
One thing I appreciate about PUR Gum is the variety of pack sizes available for purchase. You have the option to buy single packs or go for multipacks in sets of 4, 8, or even 16. It's great because if you want to save a little bit of cash, you can always invest in the larger packs.
Overall Rating
Overall, I think PUR Gum is an amazing option for those looking for an alternative to sugar-filled gum. As a xylitol-based gum, it checks off all the boxes that I look for in a chewing gum. I enjoy the wide range of flavors they offer, from traditional mints like spearmint and peppermint, to more unique combinations like pomegranate mint and chocolate mint. There's a flavor for everyone's taste buds!
When you first bite into a piece of PUR gum, there's an explosion of flavor that's quite enjoyable. Most flavors have a strong presence within the first 10-20 seconds of chewing, and then become subtle and almost non-existent after that. It's not exactly a Bubblicious type gum, so don't expect to be blowing huge bubbles with this one.
Very Good
Here is my personal evaluation of PÜR Gum's strengths and weaknesses. I rated it on a scale from 1 to 10, with 10 being the highest score possible in each category:
However, in the spirit of full honesty, there are a few aspects that could be improved. I wish the gum base itself was natural as well, which would cater to those looking for a fully natural option. Additionally, if you have any TMJ disorders and are not a fan of gums that get hard after some time, PUR gum might not be your top choice. I noticed that if I held onto the gum for too long, it did start to stiffen up, which could be a problem for some.
One thing you should bear in mind is that if you are wearing any temporary crowns, it's best not to chew on PUR gum for too long because it has a tendency to stick.
While xylitol offers a healthy alternative to sugar, overindulgence can cause bloating and digestive issues. Most brands recommend limiting your daily intake to about 30 grams or less.
A word of caution for pet owners too: Keep your packs of PUR Gum concealed and out of reach from dogs—xylitol is no good for them. (In fact it can be quite harmful, even fatal.) Dogs love the taste of gum, so it's best to play it safe.
All said and done, PUR gum has more to love than not. Despite a few hitches, it's a product that I'd recommend, especially if you're looking to switch up your gum game for something unique and exciting!